Lewis Hamilton plays down radio 'rant' as Mercedes seek improvements for the W04
"Being hunted by Fernando is like being chased by a bull," says Lewis
By Pete Gill
Last Updated: 10/06/13 2:00pm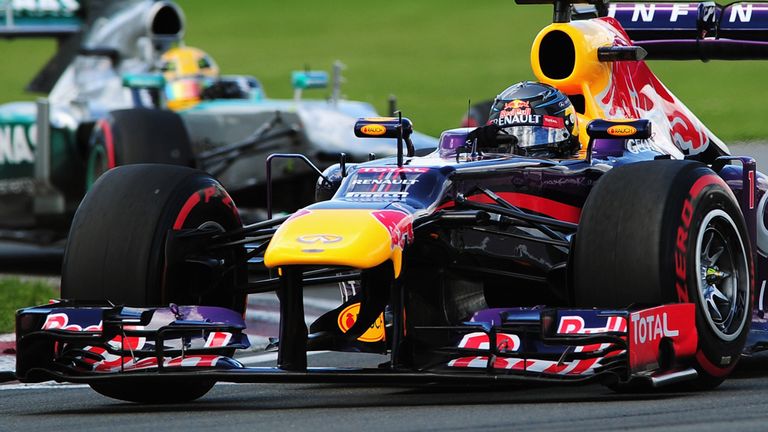 As the pursuing Fernando Alonso closed in on the Briton's W04 during the latter stages of Sunday's race, Hamilton's patience with a coded message - offering reassurance that his tyres could be pushed harder - from the pitwall apparently snapped as be barked back: "Please just let me drive, man."
The exchange has been described as a 'rant' by some quarters of the British media, but Hamilton has insisted he was simply striving to remain focused in the heat of battle.
"Being hunted down by Fernando is like being chased by a bull and so I just didn't need anyone in my ear when I was already at the maximum I could go at," Lewis explained to Sky Sports News. "And when you're at your maximum, that's when you can easily crash so you don't need any distractions."
Yet despite being left in peace to fight for second place, Hamilton was still unable to fend off Alonso in a car which team boss Ross Brawn subsequently admitted does not currently have the pace of either the Red Bull or Ferrari.
Hamilton's problems adjusting to the braking system on his Mercedes car have been well documented following his admission he was still "struggling" to come to terms with his new charger in Monaco, but in Montreal the W04 was found to be bereft of pace compared to the F138 both in a straight line and through the slow-speed turns of the Gilles Villeneuve Circuit.
"It's just grip, just a lack of grip," Hamilton lamented. "The car was fantastic, I'm assuming those guys [Alonso and race victor Sebastian Vettel] had even better than that. I was just lacking a little bit of grip in the lower speeds perhaps the chicane. Fernando seemed to be particularly quick in the lower-speed corners.
"He was massively quick and it was very difficult to keep him behind. I tried my best. I got close once he got past me, but he was just generally too quick for me. But you know, it's still a good result for me considering that these guys are massively quick."
At least the W04's perennial problems with overheating its rear tyres did not reoccur in Montreal, although Hamilton, perhaps mindful that any suggestion Mercedes have found a solution for their longstanding weakness would be linked to their recent controversial tyre test, was at pains to attribute the improvement to the undemanding nature of the Gilles Villeneuve Circuit.
"We haven't cured anything, it's not been a long period of time since Barcelona where there was big trouble," he said. "We've just been to two tracks where it's not got high speed corners, so therefore it's not really been a problem. We've worked on a couple of techniques to look after the tyres a bit more, brake cooling and all that kind of stuff has been added as well, which helps."