Bernie Ecclestone says Mercedes should have said 'no' when asked to test Pirelli's tyres
F1 boss also feels tyre manufacturer did nothing wrong
By William Esler
Last Updated: 14/06/13 1:32pm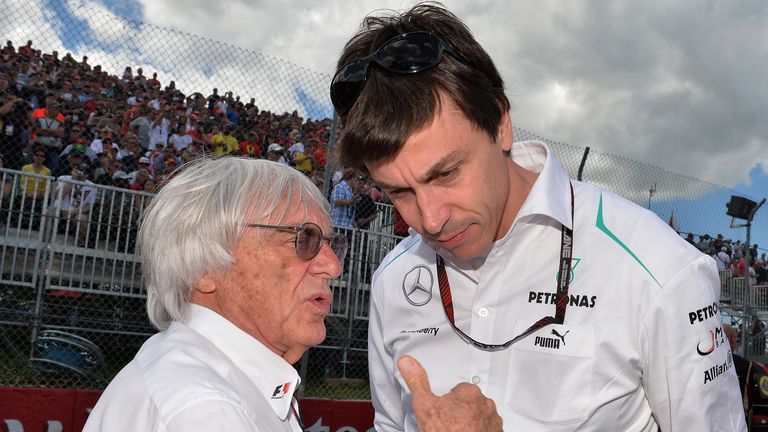 Following an investigation by the race stewards in Monaco, both companies have been called to face the FIA International Tribunal in Paris next Thursday over the testgate saga.
"Wait until the tribunal, they've got all the facts," Ecclestone told Adam Cooper's blog. "If you offer me stolen goods, it's up to me to decide whether I want to accept them or not. It's not up to anyone to tell me what I should do. I should know what I should do.
"Pirelli were doing the right thing, obviously. They couldn't get out of a tyre problem, if there had been proper testing, which there should be, they wouldn't be in this problem.
"It's only because there's no proper testing that they're in this problem. As people have been complaining, the obvious thing to do was to get out of it by testing. And they asked."
In-season testing is banned by the Sporting Regulations, but Pirelli feel their commercial agreement with the FIA allows them to conduct a test and when asked if he felt the tyre manufacturer had done anything wrong, Ecclestone added: "Not at all."
As part of the deal, Pirelli have significant advertising at each circuit, but the F1 supremo says the financial implications have no impact on his opinion.
"I don't care. It makes no difference to me. What is right, is right, you know. The one thing an unmarried girl has got is the right to say 'no'," he said.
"You would have to reckon that Mercedes were in that position..."
There had been speculation French tyre firm Michelin have been lined up to replace Pirelli in 2014, but Ecclestone was keen to play down those reports.
"No idea. I haven't got a clue," he said. "I haven't spoken to anyone. We have a long-term contract with Pirelli, as the FIA do. And I think most of the teams have - I think they've done a deal with all the teams they want to do a deal with."