Lewis Hamilton fears for his legacy after 'wasting away best years' at McLaren
"Time is slipping away" admits one-time World Champion Hamilton
By Pete Gill
Last Updated: 25/06/13 8:39am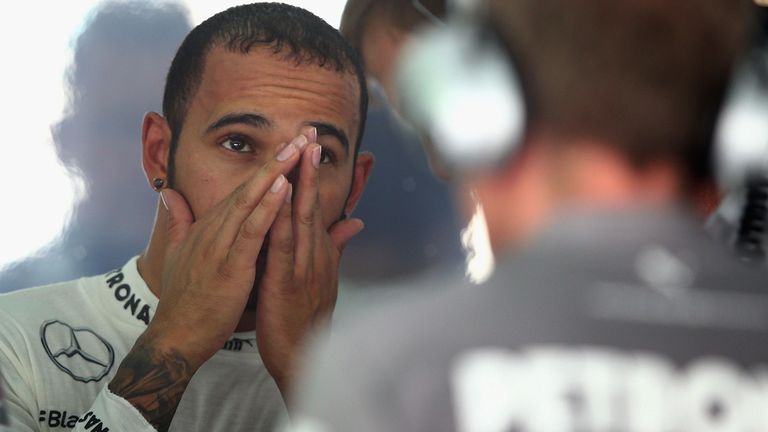 Despite being widely regarded as the fastest driver in F1, Hamilton has just a solitary title on his CV after six full seasons in the sport - an adequate return for most, but a serious shortfall for a driver of his skill and talent.
Hamilton, whose championship hopes for this season are already remote after slipping 55 points adrift of the summit, has struck a curiously disenchanted figure in recent weeks, and it seems the prospect of retiring from F1 with just a single championship, won as long ago as 2008, is weighing heavily on his mind.
"Time is slipping away," Lewis told The Sunday Times' Driving Magazine in a remarkably candid interview. "It's been five years since I won the World Championship. When I was in the lower categories I would win a championship every year or every other year.
"There are a lot of drivers that haven't won a World Championship, so I feel at least grateful that I have one, although one is less prestigious now because so many people have won a championship. Now the people who have two or three or four: [that's what] makes you special."
It's not difficult to identify the unnamed elephant in the room: Sebastian Vettel. While Hamilton and former nemesis Fernando Alonso have formed a mutual-admiration society in recent years, frequently heralding the other as the best driver in the sport, the Red Bull driver already boasts as many titles as the pair combined. With a fourth successive championship for the German already beckoning, a pensive Hamilton has seemingly begun to question just how the sport will remember him.
"I'm getting older and I don't have forever in this sport. So I definitely start to think what I want people to remember me as: I just want to be known as a hard, out and out racer," he said.
Hamilton stunned the F1 world last October when he announced he was leaving McLaren, a team steeped in success, for Mercedes, an outfit which had won just one race in the previous three years.
The 28-year-old insisted at the time that he was seeking a fresh challenge, but if that ambition was the pull behind the switch the push appears to have been frustration with a series of title near-misses. It ought, perhaps, to be readily recalled that Hamilton's bombshell decision to depart McLaren was delivered the week after a mechanical failure in Singapore saw him retire from the lead of the race and, to all intents and purposes, the title race as well.
"I got to F1 and nearly won in my first year, then won I won in my second year," Hamilton reflected. "I've never had a car to really compete since then. The car makes such a big difference so you're just wasting away your best years."
Earning a reputed £60m over the course of his three-season contract with Mercedes, the 28-year-old Hamilton should, according to accepted wisdom, currently be at the peak of his powers, and his claim that he didn't have a car capable of challenging for a championship since 2008 is, at best, contentious. In 2012, it was a corrosive mix of cock-ups and calamity, rather than the car, which cost him - and McLaren - dear.
Yet the prospect of Hamilton's legacy being thoroughly eclipsed by that of the relentlessly-successful Vettel is a very real one - and, apparently, very troubling. For both Alonso and Hamilton, all the talent in the world is a small consolation for an acute shortage of World Championships.