Unhappy Lewis Hamilton describes Mercedes W04 as "a disaster" as title hopes fade
Lewis falls 58 points behind Sebastian Vettel following German GP
By Pete Gill
Last Updated: 08/07/13 3:12pm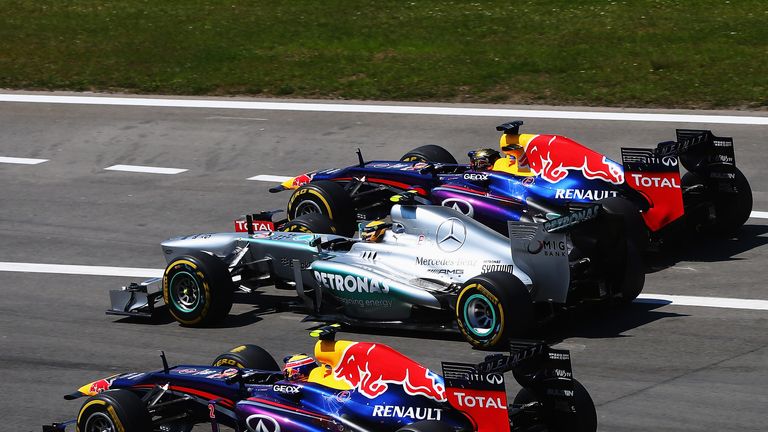 Despite starting Sunday's German GP from pole position, Hamilton trailed home a distant fifth after struggling to extract grip from the reintroduced Kevlar-belted tyres.
The Mercedes has struggled throughout the season to replicate its qualifying pace on race day with the W04 suffering from a crippling propensity to eat into its tyres - particularly the rears - at a far greater rate than its competitors. Sunday's reversal - which saw him cross the line almost thirty seconds behind Vettel - has left the 2008 World Champion in a forlorn mood.
"I'm not really thinking about the championship now. There's really no point - especially as he is nearly 60 points ahead. We are going to need a little a bit of elbow grease and we might be able to do it," Hamilton told reporters.
"The car is a disaster on heavy fuel loads. It's always a shock when a race goes bad. You never expect it to go as bad as it does. You find you are digging yourself out of a hole right towards the end of a race when all of a sudden the car starts working. It's very frustrating."
The former McLaren driver is yet to win for his new team after switching to Mercedes over the winter and admits that his maiden Silver Arrows victory may be a long time coming.
"The one opportunity I had to win was at Silverstone when the tyre blew up. Who knows when the next opportunity will come along?" he accepted.
Following the disclosure that Mercedes held a private test with Pirelli after May's Spanish GP, it was widely speculated that the Brackley outfit would have gained a critical advantage over their rivals. But as he addressed the press corps before departing the Nurburgring, Hamilton scoffed at those claims with considerable ire.
"You guys can eat your words, I have nothing positive to say about these tyres," he retorted. "If you can't get past a Sauber, you know you have issues - especially when you were over a second faster in qualifying."
To compound Hamilton's frustration, Mercedes have been banned from next week's Young Driver Test which has been recast as a full tyre test by the FIA following the blowouts that marred the British GP. The remaining ten teams will run the new range of Pirelli tyres to be debuted at the Hungarian GP - the last race before the summer break - and a downcast Hamilton fears that Mercedes will arrive in Budapest even further adrift of Red Bull.
"I'm not even going to hope or pray that these tyres are going to suit us because most likely they will suit the Red Bull," he commented. "People don't appreciate how big a negative it is for us not to do the test."
In full: Sky F1's exclusive interview with Hamilton at the Nurburgring