Lewis Hamilton Q&A: Mercedes driver not giving up on 2013 title
Brit now 81 points behind Sebastian Vettel in title fight
By William Esler
Last Updated: 09/09/13 10:45am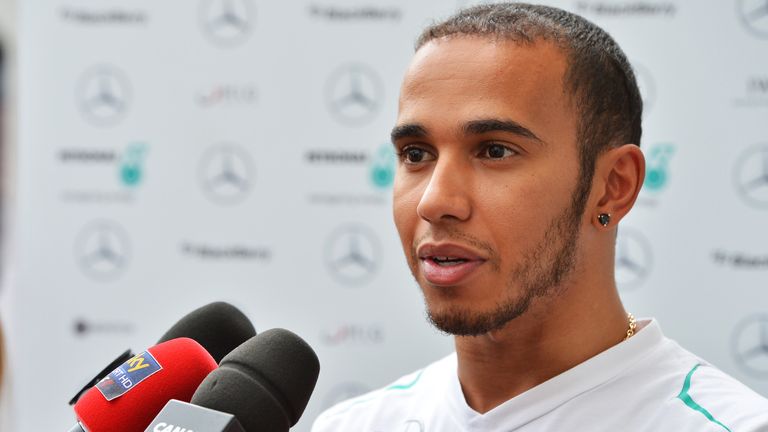 Looking at the lap times you had better pace than Sebastian Vettel - was the car better than it appeared and the situation better than the result showed?
Lewis Hamilton: "I don't know, because Sebastian wouldn't have been pushing like I would have been pushing - I was over the limit and also I had fresher tyres than him, he would have been looking after his tyres over a long period of time. But I think the car was good enough to be higher up."
81 points is now the gap between you and Vettel in the Drivers' Championship - is the writing on the wall?
LH: "When I got out of the car I was angry and definitely thought 'that could be it.' But after I got back with my engineers... I am not going to give up. I've got to win every race basically, which is the tallest order, but I can do nothing but try."
In Belgium you said that Singapore would be the place to start a late season fight. Do you still think that?
LH: "I don't know. I just feel that our car was good in Hungary when it had high downforce and we'll have that heading to Singapore and hopefully some improvements and I hope that we will be strong. I hope that I can take a few more wins in the year and... I just wish it was a closer battle at the front. It is a shame that it is like that."
You said you were angry when you stepped out of the car. Any particular reason for that?
LH: "Just with myself. Yesterday I handled it probably the best I have ever handled it - I was angry within myself, but I got over it way, way faster than I ever have in my life. I got over it, turned it into a positive and came here this morning energised and excited. I felt really good in the race, pushed and drove harder than ever and really, really felt that I had nothing left in my heart at the end of it.
"I was angry because it sucks that you do all that work and everyone in the factory does all that work and you get two points and only make up three places. That is the way it goes and we will improve for the next races - we have a competitive car, we have got to get back ahead of the Ferraris and I feel we can do that from here on."
Does it help having a win or bust task of must win every race rather than thinking of tactical points?
LH: "There never is a thinking of tactical points - you always want to win every race - but when you are up against the Bull it is hard to do that, but I hope that moving on these few races we will have a better chance. I just hope that next year, we have an even better chance."
Does it get depressing seeing Sebastian reeling off the wins and championships?
LH: "It is not depressing. At the end of the day Sebastian is driving very well, you have to give him credit, he is a nice guy, he is driving as he should do as a World Champion and he has the best car and is not making any mistakes.
"It is a different position to some of the other drivers that don't necessarily have the pace and then have to try and make up for the pace that they don't have. But we will keep pushing and I do feel that we can beat them in some races, so fingers crossed. But if I win every race and he finishes second then it is impossible."