Lewis Hamilton Q&A: Reviewing his first season at Mercedes and hopes for 2014
Mercedes driver ready for a repeat of 2006 in his winter preparations
By Sky Sports Online
Last Updated: 25/11/13 10:20am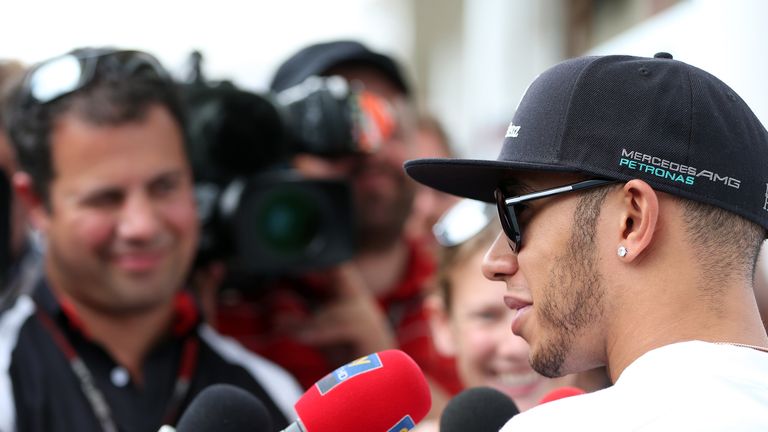 How did you view the incident with Valtteri Bottas?
Lewis Hamilton: "I guess it's a racing incident really. I saw him catching me and I moved over and I didn't think he was going to make it in time because we were in the braking zone. So I started creeping back to turn and he dived down the outside and braked quite a lot later. I didn't think he was going to go there and it was last minute and we touched just as I was turning. It's a bit unfortunate."
Was there a chance he could have gone around the outside and overtaken you?
LH: "No, he couldn't have gone round the outside, plus he was a lap down. For me I was thinking 'I'm trying to catch Fernando' so if he goes past I might lose time to Fernando. In hindsight perhaps I should have just let him pass because obviously we would have avoided that incident. He was quite quick, he had much, much newer tyres than me, he'd just pitted. So that's something we'll learn for the future."
Do you accept the penalty?
LH: "What difference does it make? I was given the penalty, I took it and I drove through the pitlane."
When you reflect back on the season, has it been a pretty positive season considering where the team has come from?
LH: The only real positive is the team's performance [Mercedes clinched second in the Constructors' Championship]. That's huge. Nobody expected that and I couldn't have hoped for more. But I feel like I should have done more."
So areas to work on for next season...
LH: "Lots. For me, it's been an average year in terms of my performance, so I look forward to working hard and getting to the point where I feel need to be."
Was there more to do in the early stages of today's race with adjusting the car after the lack of dry running this weekend?
LH: "Everyone was in the same boat. For some reason this year, the Lotuses, the Red Bulls and the Ferraris were very quick on the opening laps - particularly the Ferraris - and we were very slow. That's a team thing because Nico [Rosberg] suffers from it as well and we are under attack. I don't know what it is. It feels like they just have more power than us."
Is it engine related?
LH: "It's tyres, it is grip but when were on the straights it feels like their engine is quicker. I don't know if that is the case, we are going to investigate - but next year is different and I'm hoping for better."
What are you looking forward to the most next year? It's going to be quite complex...
LH: "But it's the same thing we do this year - we have KERS, we have engine braking, we have the DRS. We are still managing those things. It's just that next year we are managing the braking, the KERS, the fuel - maybe more, maybe less, who knows? I can't really guess at the moment - although we will have less fuel. And tyres are an unknown at he moment. Even though we are on the simulator we don't have a time model for next year's tyres so it's difficult to know just how different the driving style will be."
Do you prefer F1 when you can get in the car and go flat-out throughout?
LH: "I generally do - you know I do because I prefer to go flat-out. I'm pretty sure [Sebastian] Vettel is able to do that when he wants probably, but the rest of us have to manage and strategise a bit more and maybe this year has been too much strategy, but we have to do it."
On the subject of having things to improve upon, do you think testing will help?
LH: "Testing and working with the engineers in the factory...I feel like I am going to have a winter a bit like 2006 going into 2007."
You means in terms of preparation?
LH: "Yes."
Losing third place to Mark Webber in the championship, does that bother you?
LH: "I don't care! It doesn't really matter. At the end of the day he should be there because his car was so much faster all year. In my position where I was [fourth] I would have stayed ahead. We would have been equal [on points] actually but I would have been ahead because I had a win.
"But it's not a big deal; you don't get a bonus for it and winning is the only one that counts. Second place in the Constructors' was the most important because that was what the team deserved and I really wanted to contribute to that."