It's official: Team Principal Ross Brawn to leave Mercedes at the end of the year
Englishman to depart the team on December 31; Toto Wolff and Paddy Lowe to take over 'leadership' of Brackley outfit
By Pete Gill
Last Updated: 29/11/13 9:18pm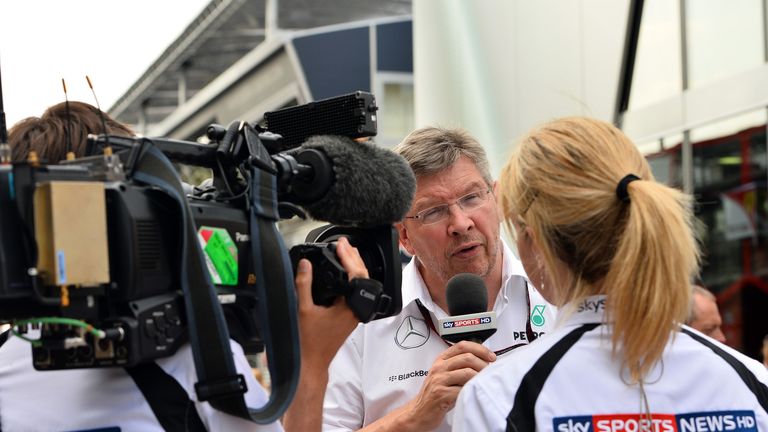 The Englishman, whose future as the Silver Arrows' Team Principal was the subject of fevered speculation during a season in which Mercedes became regular race winners and finished second only to Red Bull, is to depart the Brackley-based outfit at the end of the year.
Speaking at the Japanese GP in October, Brawn dropped a heavy hint he was preparing to depart the team due to misgivings about the proposed management restructure.
"I think we need a very clear definition of who is in charge and obviously I need the motivation to carry on," Brawn told Sky Sports F1.
"I think the situation we have now is very different is probably a bit different to 12 months ago when some of these decisions were made so to some degree it is just unravelling what's gone on and finding a satisfactory solution."
With that 'satisfactory solution' evidently not reached, Brawn will leave the team on December 31st to be replaced by a management team of Toto Wolff and Paddy Lowe.
'Following an extended period of open discussion between the team's key stakeholders, Ross has chosen to hand over the team leadership to Executive Director (Business) Toto Wolff and Executive Director (Technical) Paddy Lowe,' the team clarified in a statement announcing Brawn's exit.
It remains to be seen whether Brawn opts to take time out from F1 or find a new position elsewhere.
Brawn, who masterminded Ferrari's long run of success in the 2000s and guided his eponymous team to a double title triumph in 2009 following Honda's sudden exit from the sport, has been linked with McLaren, Williams and, most sensationally of all, a return to the Scuderia after being spotted in talks with Stefano Domenicali at the season-ending Brazilian GP. A role with the FIA has also been touted - a possibility arguably given greater likelihood by the timing of Brawn's departure from Mercedes, just three weeks before the first winter test of 2014.
Brawn himself was giving nothing away about his intentions in his valedictory remarks in the Mercedes press release confirming his departure.
"The most important consideration in my decision to step down from the role as Team Principal was to ensure that the timing was right for the team in order to ensure its future success," Brawn commented.
"The succession planning process that we have implemented during this year means we are now ready to conduct the transition from my current responsibilities to a new leadership team composed of Toto and Paddy.
"However, 2014 will mark the beginning of a new era in the sport. We therefore felt this was the right time to simultaneously begin a new era of team management to ensure that the organisation is in the strongest possible competitive position for the years to come.
"We can take pride not just in our on-track achievements but also in the organisation we have built at Brackley. In its different guises over the past six seasons, this team has delivered some of the most memorable moments of my career. Our second place in this season's Constructors' Championship is an important milestone on the road to championship success.
"I am confident that the future will hold just as much success for the team and will take real pride in having played my own part in those achievements."
Wolff joined Mercedes from Williams earlier this year, while Paddy Lowe began work with the team in mid-summer after quitting his role as McLaren Technical Director. While the exact nature of their partnership will only become clear in the months ahead, the apparent appointment of Wolff and Lowe as 'joint managers' is a dramatic deviation from F1's convention of placing the overall responsibility of the day-to-day running of a team in the hands of a nominated Team Principal.
"Toto and Paddy are the right people to lead our team in 2014 and beyond," insisted Niki Lauda, Mercedes' non-executive chairman.
Nevertheless, Lauda is believed to have fought hard to keep Brawn at Mercedes and his regret at the team's failure to persuade the 59-year-old to stay on was apparent as he remarked:
"We have had long discussions with Ross about how he could continue with the team but it is a basic fact that you cannot hold somebody back when they have chosen to move on."
When the first reports of Brawn's impending departure broke ahead of the Abu Dhabi GP earlier this month, the team's current driver pairing of Nico Rosberg and Lewis Hamilton notably stressed that the outfit had enough strength in depth to cope with any departure of their Team Principal.
Reacting to confirmation of Brawn's exit on Twitter on Thursday, Rosberg, who was hired by the Englishman in 2010, said he had enjoyed his time working with the legendary figure but that Mercedes could still prosper in 2014.
"Was a great experience to work with Ross. He is a great leader and we shared special times like my first win and Monaco win," Rosberg wrote.
"Our ambition is to be leading next year. Now on we go flat out with Paddy and Toto! Starting with seat fit & 2014 simulator tomorrow."
On Tuesday, Lewis Hamilton spoke optimistically of the team challenging for both the Drivers' and Constructors' Championship in 2014.
Whether that ambition is hindered by Brawn's exit from the team remains to be seen.