Lewis Hamilton says Red Bull's test struggles emphasise challenge of F1's new era
Merc star happy with progress but cautions against over-optimism
By James Galloway at Jerez
Last Updated: 30/01/14 6:49pm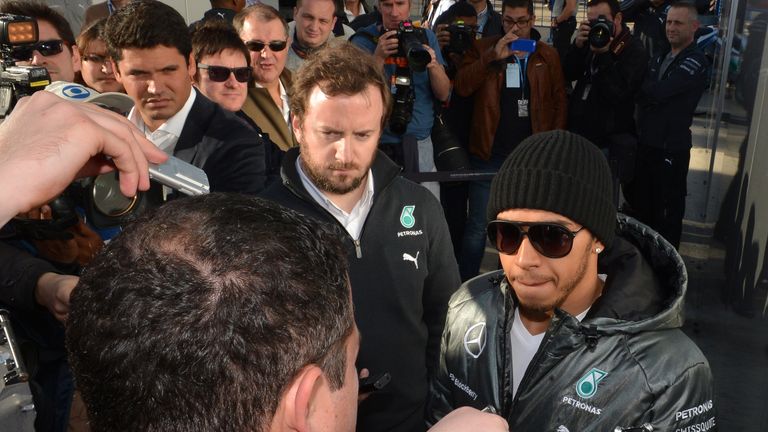 The surprising travails of the quadruple World Champions has proved the dominant story across the first three days of running at Jerez as a succession of problems, thought to be related to the packaging of Renault's all-new power unit and related systems in the RB10, have combined to leave Red Bull with a meagre 14 laps on the board.
In contrast, a front-wing failure on Hamilton's debut in the W05 aside, Mercedes have racked up 177 laps in that time including a near-century in a single day with Nico Rosberg on Day Two.
Hamilton added 52 to the total in his final appearance of the week on Thursday, ending the day with the third-fastest time, and said Mercedes could be pleased with their progress so far.
Reflecting on the struggles of F1's dominant team of the last four years, the former World Champion said it emphasised how no-one on the grid was immune from what he labelled a "seriously challenging year".
"We got 97 [laps] in yesterday which is good," Hamilton told reporters.
"It's really just incredibly impressive to see the team...we were the first ones out on the first day. Obviously I had a couple of issues with the front wing, but we fixed that.
"Just by watching all the other teams who haven't been out - even Red Bull, and you always imagine that the Red Bulls will be doing equally as many laps as us with their track record. But obviously they've had some issues as well, so it just shows you how difficult and challenging it is for every team. To see us out there doing 97 laps is a huge positive for the team."
Over at Ferrari, meanwhile, Fernando Alonso, who finished runner-up to Sebastian Vettel in three of the last four seasons, took no outward satisfaction from Red Bull's Jerez tale of woe and said he expected the World Champions to be on top of their problems soon.
"Obviously they are not our focus, we are working on our things. But there is plenty of time before Australia and they will put things in place quickly, I'm sure," the Spaniard insisted.
Nonetheless, despite Red Bull's problems surely giving early hope to their rivals of recent seasons that the competitive picture could be different in 2014, Hamilton cautioned against getting too excited about his own team's progress.
"At the moment we're quite happy," the 2008 World Champion added.
"It just shows the strength within the team. The guys have been working hard for quite some time to get the car ready, to have it here. To be the first ones out on track here and to have done the most laps so far is a good step for us. But there's so many challenges ahead of us that anything can happen in the coming days and the coming tests so we just have to take it one day at a time."
Feeling very positive after these tests and every day on track is another step forwards!

- Lewis Hamilton (@LewisHamilton) January 30, 2014
The Sky Sports F1 Online team will be providing live commentary of all three winter tests, with live updates from trackside also on Sky Sports News.