Long-running Nico Rosberg confirms Mercedes W05 still to be tested for pace
German becomes first driver to complete a full race simulation this year
By Pete Gill in Jerez
Last Updated: 31/01/14 2:45pm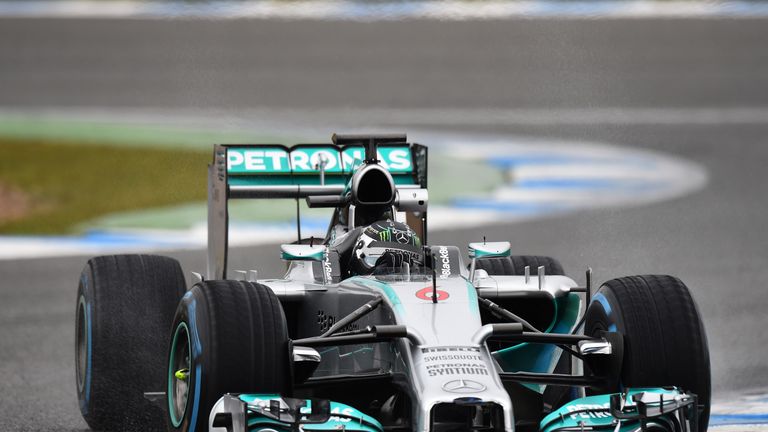 While Red Bull have floundered in southern Spain, quitting the test early on Friday after completing a meagre 21 laps over the four days, Rosberg enjoyed such untroubled running that, in an unscheduled move, he handed over the W05 to team-mate Lewis Hamilton for the afternoon session on Day Four after adding another 91 laps to the 97 he set on Wednesday.
"It was a good day for us. I'm pleased. It's a decent start and I had expected it to be a lot worse. The goal coming here was to get a lot of mileage and we have managed to achieve that quite well. It's a surprise to do so many laps because it's been a mission with the new technology," said Rosberg.
Yet although Mercedes have claimed a clear and substantial advantage over the World Champions in terms of mileage and thus reliability, Rosberg was the first to admit that his new charger has still not proved itself in anger yet.
"We have no idea where we are on pace so it's really early days," he acknowledged. "It's not possible to give a mark out of ten because pace is important and we have no idea where we are on pace.
"Nothing was all-out, not even the driver! It was just important to do a lot of kilometres."
Was that a barbed reference to Red Bull and their ongoing troubles with the RB10? Apparently not.
"I'm not thinking about our competitors at the moment, I'm not even looking at what they are doing. We are just focused on us," insisted Rosberg.
Which only left the German to reflect on the first full race simulation of the year and the subsequent decision to hand over the W05 to Hamilton instead of completing his second allotted day in the car.
"It was an entire race simulation with a couple of laps on top," he said. "The track was still wet and I was running on the intermediates and there wasn't much degradation so the tyres are looking alright for now. The dry tyres are definitely are very hard so there will be a couple of less pit-stops [in races] maybe."
And the decision to let Hamilton boost his tally of laps?
"I always want to drive all day, every day. But it's always in the team we had to level things out and in testing every driver gets the same opportunity," he added.
The Sky Sports F1 Online team will be providing live commentary of all three winter tests, with live updates from trackside also on Sky Sports News.