Nico Rosberg says Mercedes' W05 reliability has surpassed their own expectations
Silver Arrows topping the mileage charts at halfway point
By James Galloway in Bahrain and William Esler
Last Updated: 21/02/14 7:38am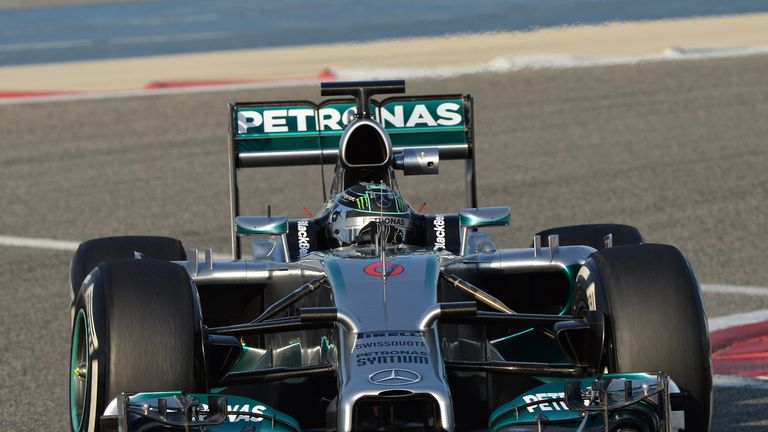 The Mercedes driver completed 85 laps of the Bahrain International Circuit to take the team to over 2,200km of running in total over the first six days of testing - nearly 250km more than nearest rival Ferrari.
Rosberg says the reliability the team have enjoyed in both Jerez and Bahrain has been a real positive as it allows them to find faults with the car that might otherwise occur in the more costly environment of a grand prix.
"We are better than expected with reliability," the 28-year-old said.
"Our own expectation was that it would be even more difficult, so from that point of view we are pleased as everyone has done a good job to make this car relatively reliable to start off with. Reliable in a way that we can do a lot laps and start to see little problems and also start to work on performance.
"The first part of testing was about reliability and I think we did a decent job of that - getting a lot of laps done and understanding where our weaknesses are on the car and what we need to work on. Performance is obviously the most important and we don't really know where we are yet on performance, so [for] that we will wait and see."
That said, Rosberg did trigger two early red flags in Bahrain, with the team blaming sensor issues for both stoppages, but the German is relieved that these are minor problems compared to those other teams are suffering.
"It depends because issues are issues and finding stuff on track is never good, but it is better to stop now [in testing] as we at least get to see where the problems are," he added.
"Of course there are going to be problems in the car, it is impossible that it would be perfect, so we need to push this car to the limit, we need to get to the problems and see them because that is the only way we are going to fix them for the races. So stopping on track isn't necessarily a bad thing."
This was Rosberg's third outing with the new 1.6-litre turbo power units that have been introduced this season and he admits he is still struggling with the amount of torque the engine delivers.
"A couple of times it was really difficult today," the German revealed. "When the tyres got warm I had wheel spin up to fifth gear sometimes on the straights, so it is quite tricky."
Bahrain Test, Day Two timesheet:
1. Kevin Magnussen, McLaren, 1:34.910, 46 laps
2. Nico Hulkenberg, Force India, 1:36.445, 59 laps
3. Fernando Alonso, Ferrari, 1:36.516, 97 laps
4. Nico Rosberg, Mercedes, 1:36.965, 85 laps
5. Valtteri Bottas, Williams, 1:37.328, 116 laps
6. Kamui Kobayashi, Caterham, 1:39.855, 66 laps
7. Sebastian Vettel, Red Bull, 1:40.340, 59 laps
8. Jean-Eric Vergne, Toro Rosso, 1:40.609, 58 laps
9. Esteban Gutierrez, Sauber, 1:40.717, 55 laps
10. Romain Grosjean, Lotus, 1:41.670, 18 laps
11. Max Chilton, Marussia, 1:42.511, 17 laps.
Overall lap totals by each engine manufacturer during pre-season:
Mercedes - 1419
Ferrari - 762
Renault - 447.
Overall lap totals by each team during pre-season:
Mercedes - 468.
Ferrari - 412.
McLaren - 372.
Sauber - 300.
Williams - 296.
Force India - 283.
Caterham - 210
Toro Rosso - 117
Red Bull - 94.
Marussia - 50.
Lotus - 26.
The Sky Sports F1 Online team will be providing live commentary of all three winter tests, with live updates from trackside also on Sky Sports News.