Nico Rosberg sure relationship with Lewis Hamilton will survive 'tough times' ahead
Mercedes team-mates the current favourites to win the world title
By Pete Gill and Mike Wise in Bahrain
Last Updated: 03/04/14 5:06pm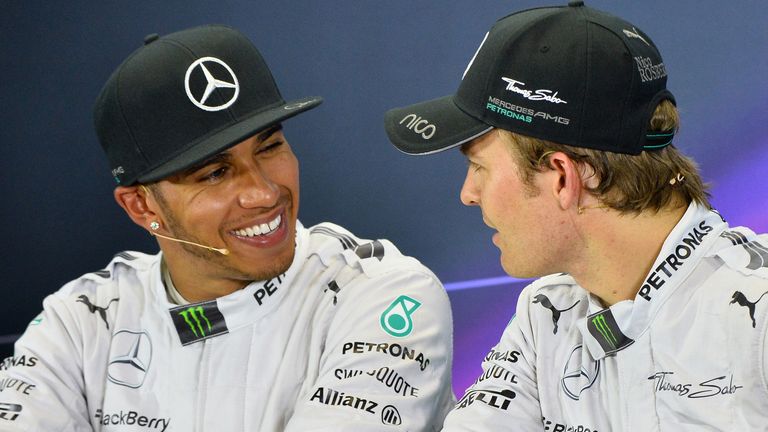 The Mercedes team-mates are currently top of the Drivers' Championship with one win apiece following the opening exchanges of a 2014 season that the Silver Arrows' W05 car appears set to dominate.
While the scale of Hamilton's 17-second victory - "three seconds on the last lap, so 14 seconds, but definitely a large gap," in the words of Rosberg - over his team-mate in Malaysia prompted a series of awkward questions to be asked of the German in his media briefing on Thursday in Bahrain, it was Nico's assessment of his relationship with long-time friend Hamilton, and the likely impact of their predicted head-to-head fight for the title, that was particularly intriguing.
"It hasn't changed at all. Yet."
Pause.
"Maybe we are not thinking about the World Championship yet, it's still early days."
So it could change?
"Could do, yeah, if we are in a similar position."
And is that a concern?
"Not at all. In go-karts we were exactly the same position, although there's a few more people around and a bit more media, and we managed to get through that with respect."
Another pause.
"I'm confident we can handle it again in any circumstance. There will be tough times, inevitably, but I'm confident we can work through it."
And, sorry to ask, but who won in the go-karts?
"Lewis - so it's my turn now!"
Defiant words, but that ambition will only be realised by deeds - starting with the avoidance of a repeat of his Malaysia nightmare.
Depicted as 'a thinking man's driver', Rosberg was widely tipped to claim his first World Championship in 2014 ahead of the new season. Yet despite retaining his position at the summit of the standings, confidence in his candidature suffered a hefty blow last weekend when his second successive qualifying defeat to Hamilton was followed by a substantial thrashing on race day. Almost a week later, Rosberg is at a loss to explain his poor performance.
"There's been a big analysis because second is the first loser and I don't want to be a loser," he said. "We've reviewed everything and learnt a lot of things, there are a lot I can improve on and also some things we don't understand - some very strange things that don't look right."
While team boss Toto Wolff highlighted the acute oversteer his driver endured throughout the race as mitigation, Rosberg himself pinpointed the fluctuating temperatures of his tyres as his principal problem. Either way, the setback leaves the 28-year-old eager to make amends this weekend.
"It's important to be ahead and win every weekend. Even after Melbourne it was important for me to win in Malaysia - but that didn't happen..."
Sunday's race, exclusively live on Sky Sports F1, will start at 6pm local time - 4pm in the UK.