Lauda says gloves can come off for Hamilton/Rosberg once rivals out of title
Ex-champion says his drivers "can drive over each other if they want to" once all other rivals eliminated from title fight
By James Galloway
Last Updated: 12/05/14 4:23pm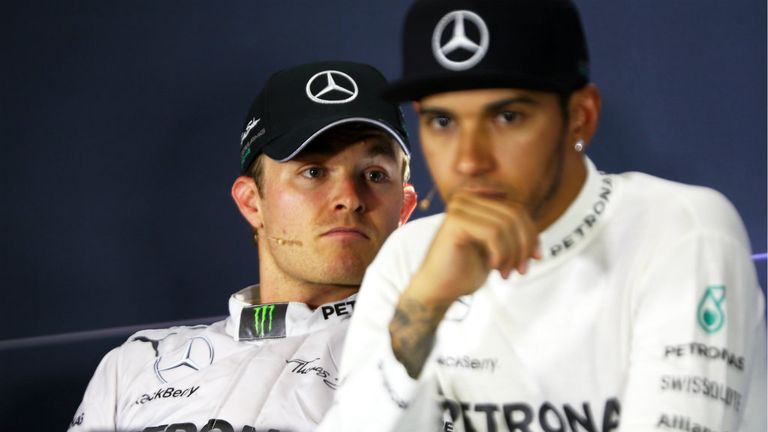 Despite the 19-round 2014 campaign being just five races old, the Mercedes drivers are already a long way clear in the standings, with nearest challenger Fernando Alonso 51 points behind new points leader Hamilton following Sunday's Spanish GP.
With Mercedes boasting a 100 per cent pole and victory record at the start of F1's new rules era, and their drivers having finished one-two in every race when both cars have finished, the battle for the Drivers' Championship is increasingly looking likely to remain a private affair between Hamilton and Rosberg.
And while Lauda, non-executive director at Mercedes, is demanding the pair continue to keep their duels clean for now, as in Bahrain and Barcelona, he is predicting that the gloves will come off once the championship mathematically distils into a straight battle between them.
"My strategy is very simple. So far, my drivers have not clashed in any way and I want that to go on until there is no third driver challenging for the title," the former triple World Champion was quoted as saying by The Times.
"Then they can drive over each other if they want to - and whoever survives is the world champion. I want them to see everybody else off and then, when there is no other enemy, it is really going to be warfare."
Although separated at the summit of the standings by just three points heading to next week's showpiece event in Monaco, it is Hamilton who undoubtedly holds the intra-Mercedes momentum following a fourth straight victory in Barcelona.
The Briton may have claimed afterwards, for the second time in his winning streak, that Rosberg had been the quicker of the two in race conditions - the German finished just 0.6s behind at the chequered flag - but Lauda insists that the 2008 title winner is currently invincible.
"Lewis Hamilton is unbeatable," Lauda was quoted as saying by The Guardian. "It's very simple to say. Because he's getting better and better every race, he makes no bloody mistake whatsoever and he's very focused. You can't beat the guy.
"Nico tried every trick today to get him. And he did a good job, but he couldn't pass him. Lewis is outstanding at this moment."
Lauda argued that Hamilton's supreme form would push Rosberg on to greater heights in turn as the German attempts to regain the title lead.
"Nico is aware at what level Lewis is driving at because they both drive the same car. And Nico will continue to bite, which for me is most important," the Austrian added.
"Because if Nico keeps on pushing himself to beat Lewis, both cars will go quicker."