Lewis Hamilton braced for difficult Canadian GP after losing track position again
Nico Rosberg takes pole position in Montreal; German faster than Mercedes team-mate on both runs during Qualifying Three
By Pete Gill
Last Updated: 08/06/14 10:52am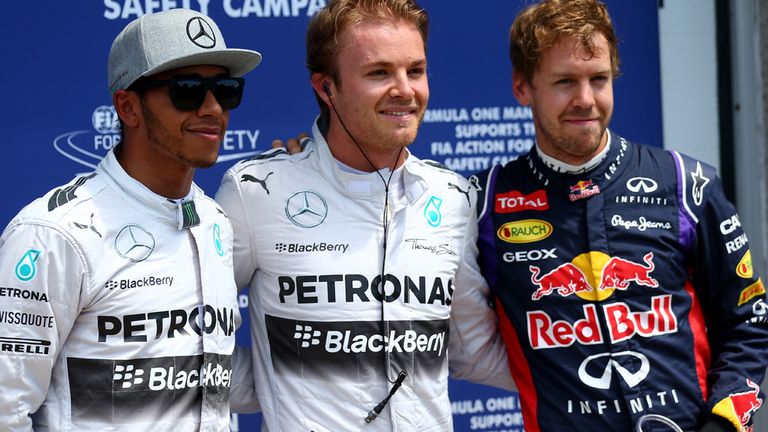 In the latest exclusive head-to-head contest for pole between the pair, who renewed their vows of friendship last week after an all-too public rift in Monaco, it was Hamilton who blinked first during Saturday's riveting qualifying hour when mistakes on his final flying lap enabled Rosberg to grab pole by less than a tenth of a second.
Few had saw it coming. Hamilton is considered to be a Montreal specialist, and had led the way in both Q1 and Q2 - making his defeat all the more significant and, from the Englishman's perspective, all the more painful. Given that track position has tended to be the only salient performance differential between the two Mercedes drivers this term, making amends on race day will be no easy matter either.
"Overtaking will be very difficult because his car is the same as mine and we are so close on pace," Hamilton admitted forlornly in the post-qualifying press conference.
Speaking later to Sky Sports F1, Hamilton admitted that his best hope of victory may be adopting a different approach to his team-mate. "Ultimately, I know that I have good pace here but I just didn't do it today," he said. "I've now got to work on strategy, looking after the tyres and the car, and I've got to speak to my engineer to work out what will suit me best, but I'm hoping I have a chance."
Hamilton bemoaned Mercedes' strategy set-up - and specifically their insistence that the team's lead car is given priority - after surrendering the lead of the World Championship to Rosberg two weeks ago in Monte Carlo, but has since been reassured that a qualifying defeat doesn't automatically trigger a disadvantage on race day.
"Of course being second and not doing as good a job in qualifying makes it harder but I've recently had a good discussion with the strategy guys and there are opportunities," confirmed Hamilton. "For me, it's really important to understand them before I go into the race and even more than I have understood them in the past."
What's not in doubt is that Rosberg likes being the lead Mercedes and track position has become critical on both days of a race weekend in the closely-fought battle between the Mercedes pair.
Albeit in far less contentious circumstances than two weeks ago, the qualifying session in Montreal followed a similar pattern to that seen in Monaco when Hamilton lost out on pole after being out-paced by Rosberg over their first runs in the top-ten shoot-out and then failed to usurp his team-mate in the final throes when running second on the road.
In the grand scheme of 2014, the decision of Mercedes to permit their drivers to take turns in deciding the order they run on track during qualifying has become a small but substantial detail. In Monaco, it was Rosberg's engineer who decided that the German should go out on track in front of Hamilton - an unusual ploy that may have fed Hamilton's subsequent suspicion that Rosberg's session-wrecking mistake on his final run may have been laced with cynicism.
This Saturday, it was Hamilton himself who decided to follow Rosberg on the road in order to be the last driver to cross the line before the chequered flag fell. The theory might have been sound, with track temperature rising throughout the session, but in the event it was Rosberg who was faster on both runs as Hamilton struggled to find sufficient clear road around the crowded Circuit Gilles Villeneuve.
"I decided to go at the end and it wasn't the best idea because I was generally behind people and had to back up which isn't the best preparation for a flying lap," acknowledged Hamilton.
But ultimately, it was a pair of scruffy mistakes under pressure that proved the Englishman's undoing.
"I went wide in Turn Six, I went wide in Turn Eight," Hamilton admitted. "It wasn't a great lap and I should have got a banker in before - a bit like in Monaco."
Quite how costly those mistakes may prove to be will be revealed on Sunday.
Watch the Canadian GP live on Sky Sports F1, with coverage starting on Sunday at 6pm