Lewis Hamilton relaxed on team orders row as he seeks more pain for Nico Rosberg
Eleven points between the two Merc drivers in championship table; Clear-the-air talks held on Thursday night in the Mercedes motorhome
By Pete Gill
Last Updated: 23/08/14 7:49am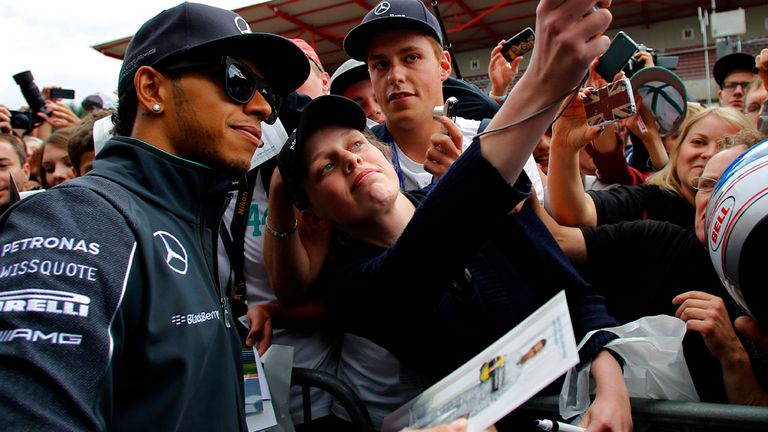 A mischievous Lewis Hamilton says he wants to inflict maximum 'pain' on team-mate Nico Rosberg as tension continues to simmer between the two World Championship rivals.
While Hamilton's comments to the official F1 website – "I want him to be at his best, because it is more painful when you are at your best and getting beat. That's more painful" – were presumably made with tongue frimly in cheek, they underline the sharp deterioration in relations between the friends-turned-title-rivals in 2014.
It's understood that the pair, in the company of Mercedes team bosses Paddy Lowe and Toto Wolff, spoke for the first time in almost a month on Thursday evening in a specially-convened clear-the-air meeting in the team's motorhome following Hamilton's refusal to move aside for Rosberg in Hungary.
According to The Daily Telegraph, Hamilton emailed both Wolff and Lowe two days after the Budapest event, requesting clarification on when team orders would be used. In a follow-up conference call between the trio, Hamilton was assured of their support, with Mercedes subsequently releasing a statement that acknowledged the normal rules of engagement could no longer apply with their two drivers in an exclusive contest for the World Championship.
"When it comes to drivers in the same team running alternative strategies, it is usual for them not to make life hard for each other when it comes to overtaking," said Wolff. "But we must appreciate that we are not in a usual situation any more."
Rosberg, however, had described Hamilton's intransigence as "not very good" immediately after the race, and his refusal to elaborate on the details of his conversations with Mercedes' management team in Thursday's Drivers' Press Conference was interpreted as evidence of his ongoing unhappiness. "I don't add too much and not give too many details," said Rosberg. "But I've learnt various things from that race which I will try to adapt to in the future."
Duly asked directly by Sky F1's Ted Kravitz whether he could still 'trust' Hamilton, against whom he first raced in boyhood, Rosberg pointedly dodged the question.
"It's a great battle between the two of us and it's going to be intense," the World Championship leader replied.
Having cut an increasingly frustrated figure in the wake of a series of technical failures prior to beating Rosberg to third place in Hungary, an unperturbed Hamilton was in relaxed mood when he faced his own press interrogation in Spa on Thursday.
"There are not a lot of things I do or say that he is happy with," the Englishman joked to reporters. "I didn't come away thinking I have learnt something here. I stood my ground."
Speaking to The Guardian, Hamilton added: "I don't feel like I owe it to him to say anything. I wasn't really involved much in his race and he didn't get close enough to overtake.
"He's asked the team to sit down. I think we'll sit down later on, the four of us. He wants to discuss it. I on the other hand think it's in the past – it's done and dusted. It's very clear and the understood situation is there is no right or wrong."
On the track, the pair remained as closely matched as ever, with Rosberg edging out Hamilton by less than a tenth of a second in Friday morning's opening practice session at Spa before, for the sixth Practice Two in succession, Hamilton topped the timesheets from Rosberg in the afternoon.