Interaction between brake material and mounting caused Lewis Hamilton's Hockenheim crash
Quality of the material was not a contributory factor
By William Esler
Last Updated: 24/08/14 9:38am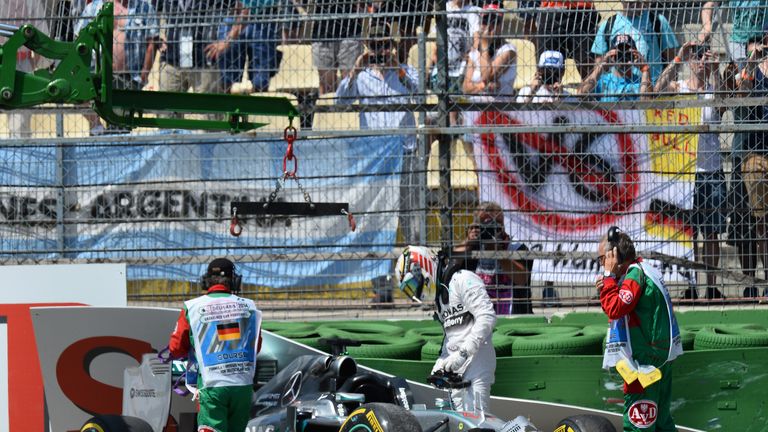 Mercedes and Brembo have revealed that the "specific interaction between the brake material and braking mounting on the F1 W05" caused Lewis Hamilton's qualifying crash in Germany.
The Briton made an early exit from the session at Hockenheim when a right-front brake disc failure on his car pitched him into a heavy shunt with the barriers.
The statement released ahead of the Belgian Grand Prix added that "the quality of the material was not a contributory factor".
Mercedes and Brembo statement in full:
'Following extensive joint analysis of the previously unseen failure mode experienced by Lewis Hamilton during Q1 at the German Grand Prix, Brembo and MERCEDES AMG PETRONAS have reached definitive conclusions concerning the cause of the failure. 
'First of all, both parties can now confirm that the quality of the disc material was not a contributory factor. 
'Instead, extensive analysis and experimentation has demonstrated that the specific interaction between the structure of the brake material in question and the brake mounting on the F1 W05 Hybrid was at the root of the failure. 
'Countermeasures have already been applied to both the disc geometry and the mounting to ensure there can be no repeat of the failure. 
'These developments allow the team to once again run Brembo brake disc material, should it choose to do so, in race conditions. 
'Thanks to the close technical relationship between Brembo and MERCEDES AMG PETRONAS, we have been able to collaborate to objectively analyse, diagnose and resolve the failure, and we remain committed to a close working relationship in the future.'