Nico Rosberg Q&A: On that crash during the Belgian GP and Mercedes' reaction
What the World Championship leader told reporters at Spa after Sunday's explosive Belgian Grand Prix
By Sky Sports Online
Last Updated: 25/08/14 2:03pm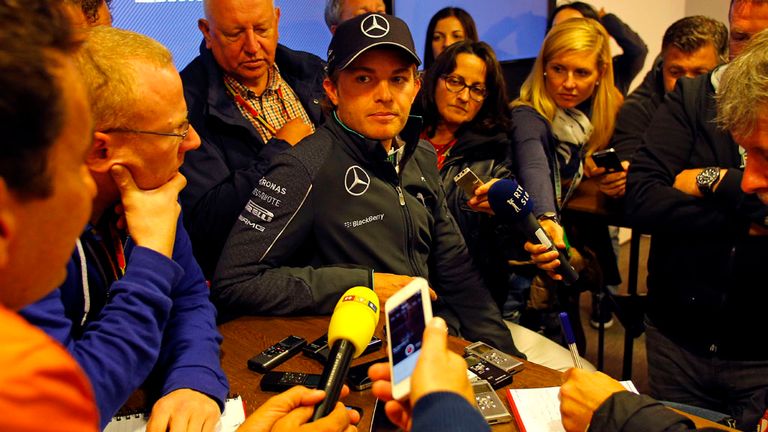 A full transcript of the Mercedes driver's post-race press briefing before Lewis Hamilton claimed that Rosberg had confessed to deliberately crashing into him.
Have you spoken to the team?
Nico Rosberg: "We had a discussion. That is important because obviously with what happened, we lost a lot of points and that is the main focus, the biggest issue, with such a happening as today.
"Unfortunately, I'm not going to go into any details – it wouldn't be the right thing to do. We need to have a review and discuss how we move forward."
Did you apologise to Lewis?
NR: "I don't want to go into such details as who apologised to who, or anything like that. It's better not to go into that."
But it's better to stand up and say 'It's my fault' isn't it? You caused that accident, why not just says you made a mistake?
NR: "I respect your opinion."
You don't share it though?
NR: "No, I don't share it. As I said before, it was a racing incident. That's the best way to describe that and that is also the way the stewards saw it. So that's why I don't share your opinion."
Was it an emotional team meeting?
NR: "It's important for us, in the more difficult times, to really discuss and reason. And I think as a team we're always managing to do that because we have a very strong leadership with Toto and Paddy, foremost, and then with Niki, who's helping out. And I think that is the advantage that we have, this strong leadership."
Would you be disappointed if the team stopped you racing because you're losing points when this happens?
NR: "We need to see. We're going to sit down again sometime in the future. Today was just a quick discussion, first review, and then…I don't know if there's going to be a change of approach."
Could you not have turned left or got on the brakes instead?
NR: "There's always the way out of going off the track."
You've said you think it's a racing incident. Do you feel you're being unfairly criticised?
NR: "In such an incident, it's natural for there to be varying opinions. That's completely normal I suppose and I understand that the British people will, more often than not, tend to be on the side of Lewis and the Germans will be on my side more often than not. That's the nature of the thing and to be honest I respect every opinion, as long as it is made with proper preparation."
But your own boss Toto Wolff has said it's unacceptable?
NR: "Unacceptable doesn't put the blame on either of us. From a team's point of view it is not acceptable and I fully agree with that – that at all times we must avoid such incidents."
But he used the metaphor 'attacking with a knife on lap two'. So he is blaming you for that?
NR: "I didn't hear him say that, I'm sorry."
Is it the hardest day in your career so far? The saddest podium?
NR: "For sure, it's a very complicated day. Yes definitely."
Would you blame the team for imposing team orders after today?
NR: "In the end I'm racing for Mercedes to win the championship and the Constructors' Championship. That's always a part of it and I respect what my team decides, in the past and in the future. Of course, I'm a part of that discussion. We'll see."
With hindsight, would you try the same thing again?
NR: "I was quicker at the time and there was an opportunity and so I gave it a go, around the outside because the inside was blocked."
Might it have been better to wait? Use DRS?
NR: "It's very hypothetical and I didn't see any risk in overtaking, or trying to overtake. So why should I not try? The opportunity was there and without DRS I was so much quicker, so I gave it a go. Inside was not possible, so I tried around the outside. So the whole 'Should I have waited' is very hypothetical because who knows what happens afterwards. The opportunity was there and for me it wasn't a risky situation."
Are you finding the situation difficult on a personal level?
NR: "It's a complicated situation, yes, because of various things that need to be discussed and this and that. I think that's natural though."