Kimi - It could have been worse
Kimi Raikkonen offered a typically understated assessment of his and Lotus's performance after topping the timesheets on day one at Jerez.
Last Updated: 08/02/12 7:34am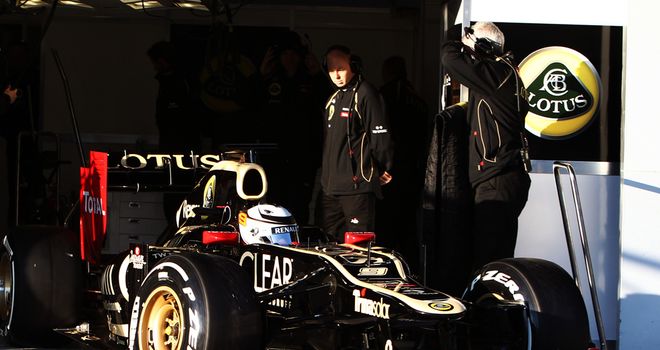 Kimi Raikkonen offered a typically understated assessment of his and Lotus's performance after ending his first official day back in an F1 cockpit at the top of the timesheets.
"For sure it could have been worse," the former World Champion said after setting a benchmark time of 1:19.670 at Jerez. "We had some small issues but that's quite normal with a new car and nothing major.
"We almost did the programme we were supposed to do...I've had much worse first days and first feelings with cars in the past. I was quite happy."
In marked contrast to the other big names on show, Raikkonen completed the majority of his 75 laps during the first half of the day's running and set what proved to be the day's fastest time before the first hour was completed.
However, in reference to the extra running he got at Jerez on Monday, the Finn admitted: "We also did a lot of what you have to do on the first day yesterday, so that was a help".
Raikkonen, who is returning this season after two years spent rallying, also admitted that he had no expectations of setting the fastest time.
Good level
Furthermore, having tested a two-year-old car in Valencia late last month, he also said he felt his driving was at a good level.
"I'm happy with how I'm driving and how I drove a few weeks ago. I think for sure you can improve always, improve the car and make it better," he said.
"I was not worried two weeks ago after we did the test. After that I knew I didn't have to worry about the tyres or the things we have to test before the new season."
Raikkonen seemed upbeat about the potential of Lotus's E20 chassis but also admitted that his position as the first P1 of 2012 carried little meaning.
"The feeling was pretty good with the car. It was handling quite nicely, so just going with that feeling I'm quite happy with things," he added.
"I believe we can be up there and improve before the season starts.
"It's the first day; it would make a difference on a race weekend. It means nothing."
Lotus later revealed that their running in the afternoon was curtailed by the need to change a KERS battery.