Grosjean: Car feels the same
Romain Grosjean says his Lotus does not feel any different after the suspension problem that curtailed their testing was fixed.
By Mike Wise in Barcelona
Last Updated: 02/03/12 6:08am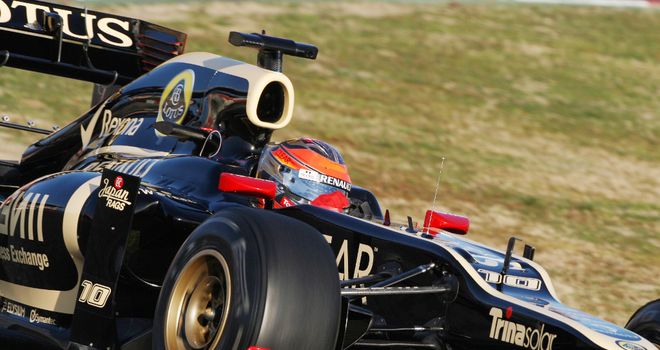 Romain Grosjean has insisted that his Lotus does not feel any different after the problem that curtailed their running at the Circuit de Catalunya last week was fixed.
The team lost four days of valuable testing time after the E20 developed a vibration and have since worked to strengthen the front suspension. The car took to the track once more on Thursday and Grosjean responded by setting the day's fastest time.
More important for the Frenchman, though, is that his Lotus has not lost anything in terms of balance - an attribute which had already impressed during the first pre-season test at Jerez.
"There's nothing really different, it doesn't change much," Grosjean confirmed. "Exactly the same good feeling as it was at Jerez and we can push, we can trust the car and play with it - which is very enjoyable."
No nerves
The GP2 champion eventually completed 62 laps and claimed he felt no nerves the first time he tried out the rebuilt car in the high-speed corners where the problem had originally revealed itself.
"When you jump in the car you never think it can be dangerous. I knew the team had worked really hard, I knew the team was doing what we needed to and I knew that the numbers said it was fine, so no worries," Grosjean said.
"When you have a problem, you're wondering a little bit what's going on and we checked all day long that everything was fine. I knew what we needed to do to repair the car and make it strong."
Lotus lost more time on Thursday with a KERS problem but Grosjean played down their lack of running pre-season.
"Hopefully the car is good straight from the beginning, we are still finding some good points on it and good set up items that we can work on. At the moment, OK we are missing a little bit of running but it's not as bad as we could have expected," he said.
"If you listen to the engineers, there is so much testing to do that in all the test days we couldn't do it! You have a test plan in the morning and then you have to remove some items.
"So for sure we will not be able to test as much as we would like, but I think the main and biggest tests we want to do before Melbourne will be done."
Closer pack
Although Grosjean said he thought Red Bull and McLaren were in front once more, he also predicted that the chasing pack would be "much closer" than last year.
Lotus themselves fell down the pack after a strong to 2011, but the 25-year-old hopes history will not repeat itself and added that the E20's handling could well prove its strong suit.
"You can push it to the limit and if you push it a little too much, you know what's going on next," Grosjean added.
"This is really good if you're driving a car: if you push harder and it's understeer in the first corner and you push a little bit harder, you will have a little bit more understeer. Sometimes you have a snap from nowhere and you don't really understand what's going on."
Grosjean is expected to complete a race simulation on his final day in the car before handing over to team-mate Kimi Raikkonen on Saturday and Sunday.