Grosjean gunning for Vettel
Romain Grosjean is hoping a tyre advantage will help him get the jump on Sebastian Vettel at the start of the Malaysian Grand Prix.
By Mike Wise at Sepang
Last Updated: 24/03/12 4:47pm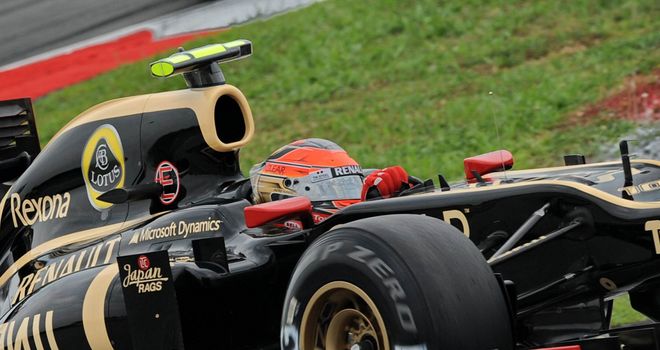 Romain Grosjean is hoping a tyre advantage will help him get the jump on Sebastian Vettel at the start of Sunday's Malaysian Grand Prix.
The Lotus driver lines up sixth on the grid at Sepang, one place behind the defending World Champion, who took the unusual step of setting his time in the final qualifying session on the prime tyre.
Vettel will therefore start the race on the hard compound Pirelli and Grosjean is hoping his mediums, together with the straightline speed of his Lotus, will enable him to get past.
"Hopefully. Normally our start is pretty good. There is a long distance to the first corner so this time we shouldn't have any problem. We hope to gain as much pace as we can before the first corner," the Frenchman said.
Balance
Grosjean said the difference between the tyres is "really thinly balanced" this weekend, with some teams electing to save primes for the race while others such as Vettel have saved options.
The 25-year-old revealed he has "two new primes and no more new options" for the race, which is notoriously tough in terms of tyre degradation.
He said: "It was a long discussion that we had before qualy - to know exactly which tyre we were going to race on and it wasn't as clear as it can be in some circumstances.
"But I think everyone has been trying to save as much tyres as they could. We've been doing only one run in Q2, one lap to have some new primes ready and some good options as well."
Despite the prospect of an early exit, Grosjean reckoned his solitary run late in the second session was a chance worth taking.
"It's a choice that you have to take, a risk that you have to take with the engineers. Sometimes you have a little bit of a margin; sometimes you have less margin," he said.
"Whatever, it was our call and I think it was the right one because now we have one set of prime tyres in our pocket."
Surprise
Grosjean, who qualified third on the grid for the Australian Grand Prix before retiring early after a collision with Williams' Pastor Maldonado, admitted that he has been surprised at Lotus's early form.
"We were pretty surprised in Melbourne that we were there and I think today is the same story: we are at a different track with different conditions but the car is still here," he said.
Referring to the chassis problems that curtailed Lotus's running pre-season, Grosjean added: "It's a fantastic job from all the team - especially after what happened in winter testing. It could have been a disaster."