Romain Grosjean admits first test of Lotus E21 at Jerez exceeded his expectations
While tech chief James Allison 'quite chipper' about start
By James Galloway at Jerez
Last Updated: 05/02/13 7:27pm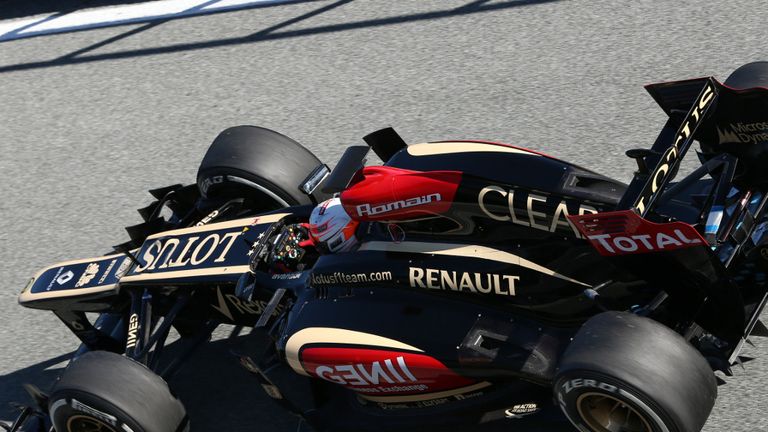 The Frenchman was given the honour of debuting the Enstone team's latest black and gold challenger on the opening day of winter testing, although experienced a slightly delayed start to his session as the team fitted parts onto the chassis.
But once out on circuit the 26-year-old swiftly moved up the nascent timesheet and into the afternoon became the first man to dip below the 1:20 barrier, before eventually being shuffled to third in the final hour.
Although most drivers up and down the pitlane on Tuesday evening stressed that it was too early to say much about their respective challengers, Grosjean was more forthcoming after his first 54 laps behind the wheel.
"It's difficult to compare, but I would say it's a step forward which is anyway a better start," he told reporters.
"McLaren were very quick at the end of the day, which is good to know for us how quick they can go and if we can simulate what they are doing. But in the car the feelings are there and the car is good."
Asked if the E21 had matched up against his expectations, Grosjean then replied: "I would say even better to be honest. First feelings were very, very good.
"Honestly, [by] lap three or lap four was already on the pace and the car was good without any set-up work on it. So a good start.
"A few pieces were a bit longer to fit on the car than expected. The team is pushing really hard to get a good car."
Lotus Technical Director James Allison also appeared buoyant in the aftermath of Day One, particularly as the car ran reliably all day.
"I'm quite chipper about it really - it was not a bad day," he said. "The car didn't break down, it seemed to have a reasonable turn of pace.
"Architecturally it's an evolution; almost every single bit on it is new so there's a million and one things that can embarrass you. All the tension of a new car is there."
Although naturally cautious when asked to give an initial assessment of the car, Allison did indicate that Grosjean's third-fastest time was set with plenty of fuel on board.
"It's way too early [to say]," he insisted. "All I can say is we've been chugging around with a fair amount of petrol on board and it seems reasonably sweet. But we won't know until we're all in the same trim and going hell for leather."
Although he did add: "He [Grosjean] was pretty smiley about it. The car had decent traction, decent grip, predictable handling."