Romain Grosjean insists there was 'nothing crazy' about his fastest lap time at Jerez
Lotus driver not reading into impressive E21's pace yet
By James Galloway
Last Updated: 06/02/13 7:23pm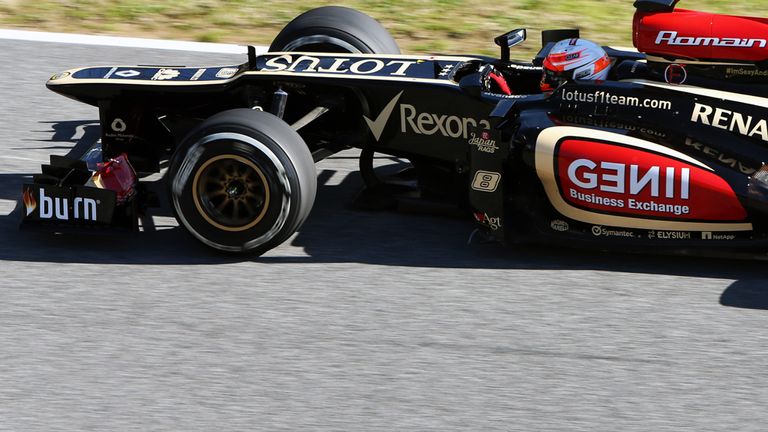 The Frenchman, who had already finished a competitive third on the timesheet behind McLaren's Jenson Button and Red Bull's Mark Webber on Day One, was already leading the way in southern Spain on lunchtime at Wednesday before increasing his advantage to over seven tenths of a second mid-way through the afternoon.
His 1:18.218 time on a short run on the soft tyres, and the fact the E21 again ran reliably, served to underlined the impressive start Lotus have made to the winter.
However, in time honoured fashion for a driver at this stage of pre-season, Grosjean said nothing could be read into the timesheet yet.
"It doesn't mean much to be honest," he told reporters when asked about the lap time.
"We stay on our plan, [it was] a good surprise with the soft tyre that we made work very well, but generally all day long we followed what we had to do and the car felt good.
"There's nothing very crazy about that time, it's just us working and doing our own business."
Qualifying was a relative weakness of last year's otherwise very competitive E20 but Grosjean was coy when asked if the new challenger was better over a single lap.
"Last season at the end it wasn't that bad on a qualy lap," he insisted. "We were fourth on the grid in Austin and looking not too bad. Through the season last year we learned a lot and kept improving ourselves and [have] some more ideas to go for qualifying."
The 26-year-old added that initial set-up comparisons had also proved fruitful.
"We tested a few options on the set-up and it reacted quite well," Grosjean revealed. "Sometimes things we were not expecting worked, but it's always good to have a good idea for the future of the testing [direction].
"It's good now to have Kimi [Raikkonen] in the car to give us this feedback [as well]."
The former GP2 Champion now hands the E21 over to Raikkonen for the final two days of the opening test and says he leaves Jerez with positive feelings about the new car.
"I was a bit cautious yesterday when I said this, but feelings are better than last year," Grosjean added.
"There is some more work we are going to do on the car to improve some areas we can improve on from now, but generally for a first try like that I am very happy with the car."