Romain Grosjean has said he has no reason to doubt Lotus' competitiveness this year
"There's no reason to think we are far away," Frenchman reckons
By Mike Wise
Last Updated: 25/02/13 2:00pm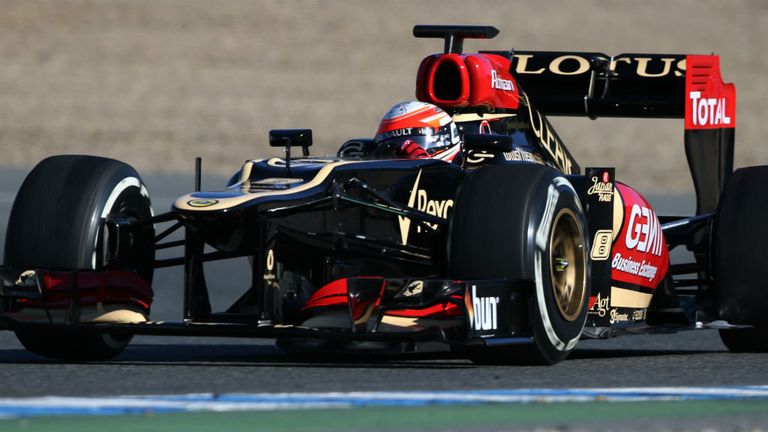 Grosjean has just two more days at the Circuit de Catalunya to try and set up the team's new E21 chassis to his liking ahead of the season-opener in Melbourne on March 17. The car has already proved quick and although Lotus suffered a gearbox failure when team-mate Kimi Raikkonen was behind the wheel in Barcelona last week, Grosjean subsequently demonstrated its reliability by completing a full race distance.
With no team revealing themselves as pacesetters - and with the usual list of testing caveats further complicated by the effect unusually cold weather in Spain had on tyre performance last week - it seems Lotus have assumed a level of prominence simply by becoming the first team to run a full 66 laps.
While Grosjean admitted that it will take time to understand Pirelli's latest range of tyres, he said he had seen nothing so far to indicate that Lotus, who finished fourth in last year's Constructors' Championship, will be any worse off.
"Honestly, we do what we have to do and we concentrate on ourselves," he said on Friday evening. "There are still things we don't understand 100 per cent on the tyres and how we can improve our long runs. We started it (Thursday's race simulation) and I was the first one to say, 'It looks like a disaster' to start with. But looking back, it wasn't that bad.
"It was good; we know we have a good baseline. But you never know until you get to race one. The temperature will be different, I'm sure a lot of teams will bring a lot of updates, and we will try as well.
"We are among the top four teams, I think. There's no reason to think we are far away, but it's difficult to say where we are."
The Frenchman added: "I don't really look at those things. The most important one is the feeling I have behind the wheel. That's what counts."
Teams could struggle to complete their programmes once again if this week's weather forecast is anything to go by. Rain is forecast on at least two of the four days, with temperatures again struggling to climb above 15 degrees Celsius.
"It's the same for all 11 teams. It's not easy, that's for sure. We would love to have it sunny and a track temperature of 25 degrees, what we're going to get all season long," Grosjean said.
"But winter testing is winter testing. We know it can be cold. It was less cold last year - I think then we were lucky with the weather."
Lotus will bring updates to both Barcelona and Melbourne. Of this week's test, Grosjean said: "It's the last one, you can change big set-up items you couldn't change in the first two, especially with the weather. We'll see how it is. If there are one or two big set-up items we can check and make sure if we want - or don't want - to use them in the season then that would be great.
"And then one day, working more or less as we would on a race weekend, trying to make some small set-up changes to make it more comfortable and then it'll be quicker."