Romain Grosjean admits his preparations for the start of the season are 'not ideal'
Frenchman heading home as weather forecast improves
By Mike Wise in Barcelona
Last Updated: 01/03/13 8:21pm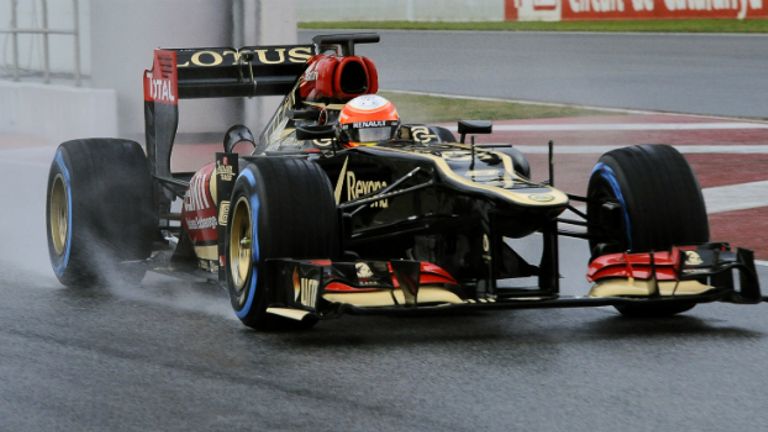 The Frenchman was fastest at the Circuit de Catalunya on Friday but with bad weather again yielding less-than ideal track conditions, he now heads home with plenty to ponder ahead of the opening race in Melbourne in two weeks' time.
Raikkonen will take over for the final two days of the test and if the forecast of warmer, sunnier conditions comes to pass, the Finn will likely be able to gain a more valuable understanding of Lotus's E21.
"It's for sure not ideal," Grosjean reflected. "But Kimi had a lot of problem on his days at the start of last week. I'd have liked to have one day with sun and higher temperatures but it's not my decision."
While Raikkonen, whose running last week was hindered by a gearbox failure, pounds round the track on Saturday and Sunday, Grosjean will have to make do with time spent in Lotus's new simulator, which he admits is not yet "100 per cent".
Even so, the 26-year-old seemed confident that he will not be left at a significant disadvantage.
"We are not too far from the basic set-up to be honest. If you speak about roll bars and springs and things like that, it's not the end of the world. In F1, aerodynamics is the most important one," Grosjean said.
Lotus's showing so far this winter has set tongues wagging in the paddock that they might be in a position to challenge the likes of Red Bull, McLaren and Ferrari on a more consistent basis this year.
While preferring not to dwell on relative performance at such an early stage, Grosjean did at least say he would be less surprised than he was 12 months ago to line up third on the grid for the Australian Grand Prix.
"I don't know about the team but personally I know a little bit more about where we are compared to where we were last year," he added. "Qualifying in Melbourne was a very big surprise to me. I know now that we are somewhere in the four or five-placed cars."