Romain Grosjean was more than happy to fly from France to complete just 46 laps
Bonus for Lotus driver after Raikkonen falls ill
By Mike Wise in Barcelona
Last Updated: 02/03/13 8:53pm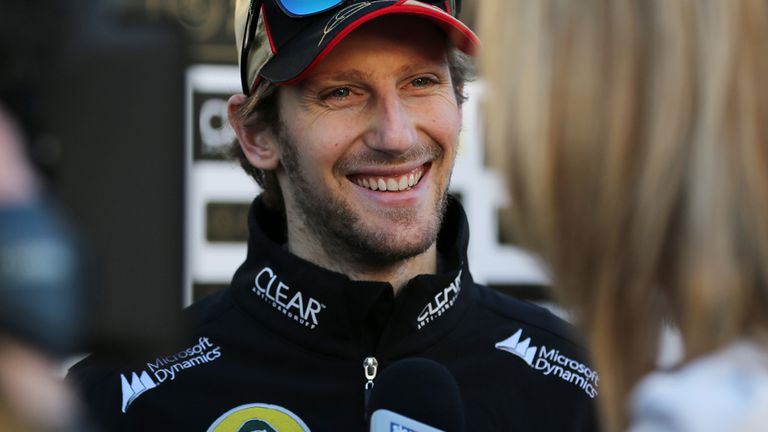 The Frenchman had only headed back home to Paris on Friday - Grosjean wearing, it has to be said, a glum expression after his allotted two days in the cockpit of the team's E21 were spoiled by bad weather.
With the Circuit de Catalunya finally basking in sunshine 24 hours later, the chance to complete another 46 laps in something approaching representative conditions was a bonus for Grosjean, who is staying in Barcelona this time in case Raikkonen fails to recover sufficiently for Sunday.
Describing how his day started, the 26-year-old said: "I was a bit lazy this morning. I was supposed to be in bed until 9:30 or 10 to do personal stuff in Paris but I woke up a bit earlier, about 8:30, switched on the mobile phone and had a message from (Lotus Track Operations Director) Alan (Permane) saying, 'Can you call me back? Kimi isn't well'.
"It wasn't easy because it's Saturday and there's not thousands of flights."
Rather than catch a scheduled flight, the largesse of a friendly sponsor saw Grosjean jetting back to Barcelona. Arriving back at 1:50pm, he was in the car little more than an hour later after reserve driver Davide Valsecchi had earlier stepped into the breach.
"It's always good," continued Grosjean, who ended the day tenth fastest. "The more time you spend in a car, the better it is. The sun is here today and it makes a bit of a difference - it gives me at least a try in the (right) conditions.
"Hopefully, Kimi gets better. We don't know yet. But for me it was worth it because it's better than doing nothing at home."
The track temperatures might have improved on Saturday but even with his limited running, Grosjean experienced a significant tyre drop-off - the bane of all drivers pre-season and one that looks set to continue.
"It's not easy," he added. "The medium tyres can do a few laps but then the performance drop is there. We ran the hard at the end and they were about the same. We are trying to do our best to keep them alive but there's not much at the moment we can do.
"Graining's going to be a headache big-time this year. Melbourne can be cool, it's a front limited circuit. At the moment front graining is an issue.
He added: "If you push hard you destroy them. But what about if you push less hard: does it last longer or not? These are question marks that we all have. I think when you go to Melbourne and race, it will be difficult to say to a driver, 'don't push too hard'."
Although Grosjean is staying put this time, it sounds as though his winter's work is done. "I'm going to wait for the final assessment of our doctors but I think he's going to be okay," Lotus Team Principal Eric Boullier said of Raikkonen, who has been struck down with a suspected bout of food poisoning.
Of course, Grosjean was not the only driver to gain unexpected track time. Valsecchi completed 16 laps in the morning, having been handed only 15 minutes' notice.
"It was a really good surprise this morning because Kimi had some problem and his physical trainer said he was not fit enough to drive, so the team decided to use me," said the GP2 Champion, who wore Raikkonen's crash helmet.
"I use everything from Raikkonen," he added. "Seat, overalls, shoes, pants, socks. Only the underwear was missing!"