Kimi Raikkonen was his usual matter-of-fact self after qualifying eighth in Bahrain
"Hopefully tomorrow it's a bit more friendly," says 'Iceman'
By Mike Wise in Manama
Last Updated: 20/04/13 6:32pm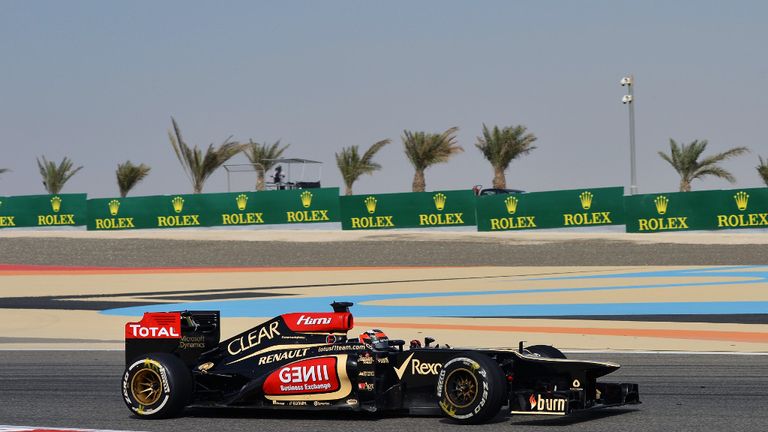 "We are not fast enough," replied the Finn, who finished a close second behind Sebastian Vettel in last year's race at Sakhir. "It was our maximum. We could have been a few places better but as I said yesterday it doesn't feel exactly like we want and it doesn't really improve today.
"It's nothing to complain about. We need more grip; I think that will help us. We're missing a bit of downforce compared to the top cars. At some places the tyre works and it doesn't matter so much."
Although Raikkonen fared less well on Pirelli's medium compound tyre - he actually set the ninth fastest time but gains a place because of Lewis Hamilton's gearbox penalty - the belief still exists that Lotus's E21 is a car that performs impressively well on the hard compound.
He was fastest in Friday's second practice session but also put in a series of fast, consistent lap times during his longer runs - something Raikkonen must now rely on if he's to come through the field like he did 12 months ago.
"Last year we weren't very fast here in qualifying and in the race it was a bit better. So hopefully tomorrow it's a bit more friendly," said Raikkonen, who started 11th on the grid in 2012.
"We'll see tomorrow. Every day is different and whatever happened last year is not going to help us tomorrow. I had an okay run yesterday so hopefully it works."
Raikkonen has earned two podium finishes in the first three races, including victory in the Australian Grand Prix.
On that occasion, he used a two-stop strategy to come through from seventh on the grid to take the chequered flag. With three stops again the most likely choice in Sunday's race, Raikkonen did not rule out doing the same thing again.
"The first part of the race will tell what everyone is doing. We know the tyres lasted when we tried them but I don't really know what will happen," he added.
"I think it's possible but I don't know if it's the fastest way. Two or three, or two or four stops; it's what we think is right for us.
"It might change in the race, purely because of traffic or something else. It's not easy and we don't have an exact plan."
Meanwhile, team-mate Romain Grosjean was left to lament a bout of procrastination that saw him fail to progress beyond Q2. The Frenchman said that indecision on the pitwall left him with time to complete only one flying lap.
"We were helped by the car being very good on hard tyres, so Q1 was P4 and no problem," said Grosjean, who lines up 11th. "But we had a misunderstanding in Q2: they told me track evolution is not that big and I thought 'OK don't be too brave'.
"What I mean by that is go early and keep some time to do a second run if you need.
"It wasn't clear from the engineers; they weren't sure and didn't know what to do. Then we put on the medium tyres and went out but were slower than on hard tyres."
Grosjean also said that the new chassis Lotus have given him this weekend had not solved the problems he has endured so far this season.
"There was nothing wrong with (the old chassis). It was just good to change it, so it's out of your mind and it's good. But then yesterday we were nowhere in the pace and still having the same issues," he said.
The 27-year-old explained that set-up changes overnight had helped but added that the problem, which boils down to an inability to manage his tyres consistently, will need time to fix.
"I'm struggling. It's not easy. But as long as you don't lose you self-confidence it's all right. You just need to put things slowly in place," he added.
"Q1 showed I'm there, I was quicker than Kimi."