Kimi Raikkonen backed for Red Bull move as he insists he won't be rushed into choice
Finn widely backed to replace Mark Webber at Red Bull in 2014
By Pete Gill
Last Updated: 21/04/13 11:22am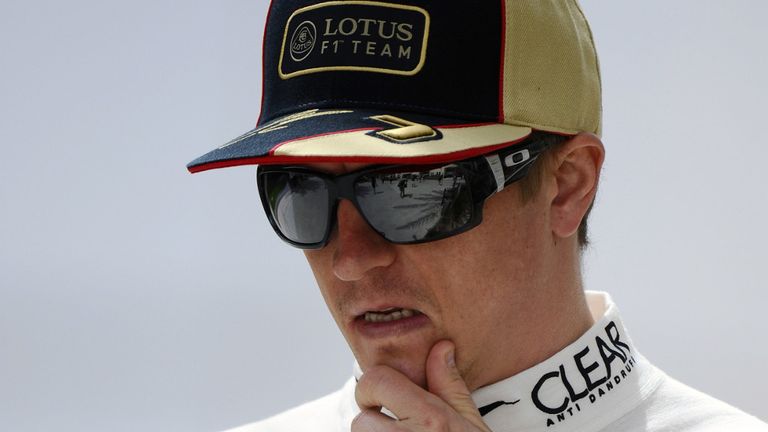 With the fractious relationship between Webber and Sebastian Vettel, which was lukewarm at the best of times, hitting a new, irreparable low in the fall-out from Vettel's deeply contentious victory at the Malaysian GP, Webber is widely expected to leave the World Champions when his existing one-year deal expires in eight months' time.
Toro Rosso's Daniel Ricciardo and highly-rated young charger Felix da Costa have both been cited as candidates to replace Webber, but it is Raikkonen who appears to be in pole position to fill the coveted seat alongside Vettel.
Nevertheless, Raikkonen is adamant that he is in no rush to finalise a deal for next season despite his own deal with Lotus expiring at the end of this year.
"I have no contract for next year - that much is true. But further than that, I don't want to discuss the matter. I want to do well this season and everything else will fall into place," he told the official Formula 1 website.
"There are many things that are undecided and there is still a long way to go this season, so let's see how things unfold. We will see pretty significant changes when teams switch to their 2014 car development - and then it will be interesting to see what is going on."
Speculation that Raikkonen is poised to transfer to Red Bull has intensified in recent weeks, with Sky Sports F1 commentator David Croft among those predicting the Finn will form a mouthwatering partnership with Vettel in 2014.
"From talking to people in the paddock and watching what is going on, I just have the feeling that a big-name signing, even though they have plenty of good up-and-coming drivers in the Red Bull development programme, is what they want," declared Crofty during Sky Sports F1's coverage of the Bahrain GP.
Unlike the gritty, plain-spoken Webber, who caused a stir in midweek by dining with Vettel's perennial title rival Fernando Alonso, Raikkonen is a close friend of the German and possesses the sort of laidback character which is likely to bring harmony to a team ripped asunder by events at Sepang.
"Kimi is holding a lot of good cards," declared Sky F1 pundit Anthony Davidson. "Raikkonen is good friends with Vettel and they play badminton together - and apparently Kimi always wins."
Whereas visualising Raikkonen in a Red Bull racing suit for 2014 is certainly far easier to foresee than imagining the taciturn Finn neatly decked out in a pristine badminton kit, the picture is cloudier still for Webber's future.
While the immediately-implausible rumours of Webber signing a five-year deal with Porsche were given short shrift by the 36-year-old in the Bahrain paddock this week, the veteran dodged an invitation on Friday to confirm he will continue in F1 in 2014 and a switch of motorsport series remains eminently feasible.
As ever, the F1 rumour mill hasn't been left idle for long.