Kimi Raikkonen was frustrated after qualifying but hopes warmer weather can help Lotus
Finn lines up eighth for the British GP
By Mike Wise at Silverstone
Last Updated: 30/06/13 11:03am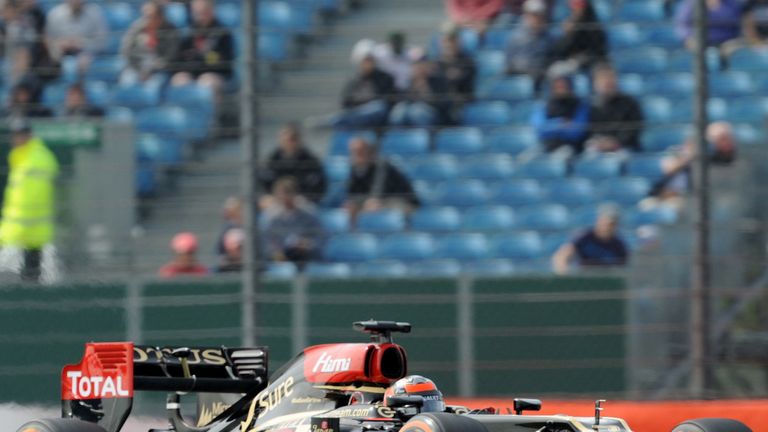 The Finn, who stands third in the Drivers' Championship but who has also lost ground to leader Sebastian Vettel in recent races, is hoping for a better performance on Sunday but conceded that his rival - who has picked up 43 points in Monaco and Canada to Raikkonen's three - is currently formidable.
"I think this seems to be our speed right now. It's not ideal but it is what it is and we have to try to improve it," Raikkonen said.
"Usually we do a bit better in the race but obviously some of them are way too fast for us. But tomorrow's going to be a bit more hot so hopefully that's going to be a bit better for us. Let's hope we can pick up some places."
Lotus's E21 has a habit of looking after its tyres better than most over a race stint. As Raikkonen said, more sunshine is the forecast for Sunday and the last time F1 visited a track similar to Silverstone, Barcelona's Circuit de Catalunya for May's Spanish GP, he finished second ahead of Vettel.
Raikkonen starts one place behind team-mate Romain Grosjean, who reckoned that Lotus had struggled to get the medium compound tyre into its correct working range.
"In Q1 we were very, very competitive - quicker than the Red Bull with the same type of tyres, so that was good. Then I fit the option and we couldn't get the delta time we were aiming for," the Frenchman said.
"That means we were not exactly where we wanted. Some teams do manage to get the tyres working, for example Toro Rosso."
Grosjean was also more circumspect when asked about Lotus's prospects for the race. "Clearly we are struggling a little bit more here than we have in the recent past," he said.
The 27-year-old added that the loss in performance owing to the tyres was far greater than any gains from the raft of upgrades Lotus have introduced this weekend.
Chief among them is their passive DRS system, which gets its long-awaited race debut on Raikkonen's car. The device is supposed to give a speed boost, yet he still qualified a fraction slower than Grosjean.
"We hoped for a bit more from it but we'll see how it behaves tomorrow and hopefully it behaves a bit better at race pace," the 2007 World Champion added.
"We'll see after tomorrow. We always hope for more from new parts."