Romain Grosjean outqualified Kimi Raikkonen once again at the Japanese Grand Prix
But Finn insists he's happier with his car as Lotus pair aim for another strong race
By Mike Wise at Suzuka
Last Updated: 13/10/13 7:13am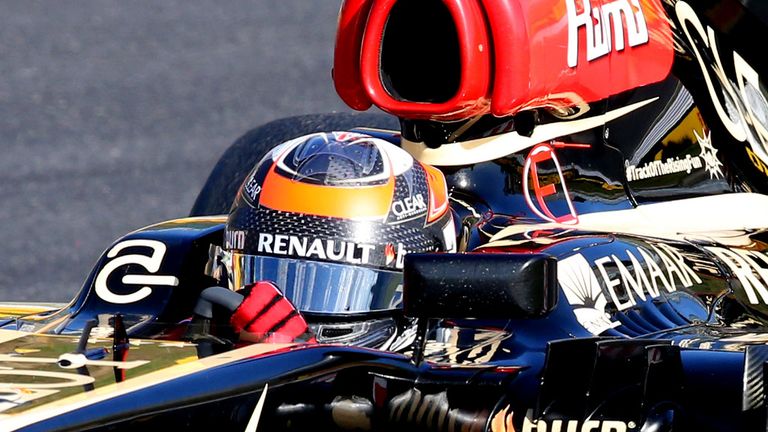 Grosjean lines up fourth on the grid at Suzuka and, with Raikkonen down in ninth, it means the Frenchman has now prevailed five times in the last seven Saturday sessions.
Sundays have tended to be a different matter but Grosjean, who tried to use team orders to move back ahead of Raikkonen after he was passed for second place in Korea last weekend, is feeling confident after set-up changes on his car.
"It was night and day compared to yesterday. We worked hard last night to analyse what was wrong but the feeling was pretty clear," Grosjean said after qualifying.
"Since the first lap this morning, the car felt very, very different and very competitive. I was very surprised by the hard because we were two seconds off the pace but today we were one of the quickest," added the 27-year-old, who was fastest of all in Q1 on the hard tyre.
With Mark Webber ultimately leading Sebastian Vettel to an all-Red Bull front row, Grosjean reckoned he might have pipped Lewis Hamilton to third place on the grid but made a mistake in the windy conditions, running wide at the second Degner corner.
"It was very windy and gusty, so depending which corner you were at, when the wind decides to pick up, it's hard," said the 27-year-old.
"I think it increased through the qualifying. So through Q2 and Q3 there was more wind than before and maybe a little bit hard to drive.
"In Q2, I lost maybe two-tenths in Turn 9. In Q3, I had an almost new set of options and then a new set and on the first attempt I tried to go for it into Turn 9 and went a bit wide."
Grosjean said the fact his E21 felt much better on the hard compound tyre than had been the case during his Friday long runs had complicated Lotus's race strategy calculations.
But with teams looking to run either two or three-stop strategies, he hinted that Lotus might once again aim for longer stints than their rivals.
"The strategy is not quite clear yet, which tyre to use, because suddenly prime went very good today for some reason," Grosjean added.
"We just need to try and get a good start. It's not the same as Korea, where there's big braking and you can go for it. It's more long corners, where you follow everyone.
"But if we take care of our tyres better or go for a different strategy then that's our chance."
Raikkonen has suffered understeer problems during qualifying for recent races but insisted that ninth place on the grid did not reflect his single-lap pace.
"(I made) a couple of small mistakes but the times are very close and I lost a few places because of that. But the car has been much more to my liking and that's a good thing," he said.
"I'm much happier than the previous races. Obviously the starting position is the same tomorrow but in general I'm much happier."
Of the race itself, Raikkonen added: "We'll do the best that we can and see where we end up. There's nothing more we can so we'll see. It's maybe a bit more tricky to overtake here than at other races.
"It's a long race but we'll get another good start and go from there."