Lotus Chairman Gerard Lopez says Kimi Raikkonen has helped Romain Grosjean's development
Finn has "helped Romain to develop as a driver in a way he perhaps wouldn't have otherwise"
By Mike Wise
Last Updated: 04/11/13 8:28am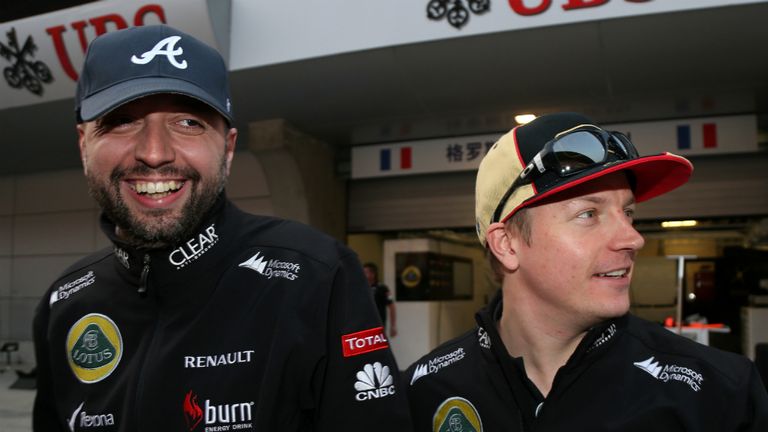 The Frenchman has scored podium finishes in the last three races and further underlined his speed on Friday by setting the fastest time in opening practice for the Abu Dhabi Grand Prix.
Raikkonen, who was himself sixth fastest, is leaving Lotus at the end of the season to rejoin Ferrari and Lopez admitted that they will miss the 2007 World Champion.
Citing the presence of "one of the best ever drivers in Formula 1" as motivation for the team to build the best possible car, Lopez also told the team's website that Raikkonen, who has won two races for Lotus since his comeback besides scoring a record-breaking string of points finishes, has fitted in well with the team.
Yet, according to Lopez, "the third thing he did is helped Romain to develop as a driver in a way he perhaps wouldn't have otherwise. Had Romain been next to a more junior driver, or a less capable driver, we probably would still not know how good Romain is.
"For Romain to be delivering the results he is doing so now, it's really very much because he is driving next to probably one of the best Formula 1 drivers ever. Kimi has been a tremendous help in the development of Romain."
That's not to say the relationship between teacher and pupil - and with others - has not been without its flare-ups. Raikkonen ran Grosjean off the track in the closing stages of the Indian GP last weekend and although the latter recovered to finish third, the battle provoked plenty of comment.
The most vociferous came within the team itself, with Lotus Track Operations Director Alan Permane telling Raikkonen, who was nursing worn tyres, to "get out of the ***king way". "Don't f***ing shout at me," was the Finn's reply.
Lopez took a realistic view of the incident. "Of course, recently a lot was made about the comments between Alan Permane and Kimi during the course of a tense moment in a race, but this was just one exchange taking a matter of seconds in the course of a two-year relationship," he said.
"It certainly wasn't the most beneficial few seconds, but you have to step back and accept that everyone is passionate about racing and sometimes these things do happen."
He added: "From my perspective, Kimi is often misunderstood. He's actually a very talkative, very friendly guy. One of the unfortunate things about being in the limelight is that people are always trying to make it look like there are huge fights going on."
It was announced in September that Raikkonen would leave Lotus, who has cited the team's inability to pay him on time as the main reason for his departure.
"The fact is he will be missed and I really think that this is one of those partnerships in Formula 1 that is - and will be remembered as being - very, very special," Lopez said. "It's difficult to think about the fact he's not going to be in our black and gold car next year. I think he feels the same way.
"There's no such thing as regrets, but there is such a thing as sadness even if disguised sometimes... he will be missed, and from what I've discussed with him he will miss this team."
A massive boost for Lotus would come if they manage to claim second place in the Constructors' Championship in the closing three races.
Right now, they stand 24 points behind Ferrari, who are themselves four points adrift of Mercedes.
"It makes a big difference to us, in terms of many things," Lopez added. "We do have arguably the second best car out there, so there's no reason why we cannot put up a good fight and try to get that second position."