Eric Boullier says determining Lotus's financial footing for 2014 the key
Enstone team bidding to secure best route for financial future
By James Galloway at the Yas Marina Circuit
Last Updated: 04/11/13 8:23am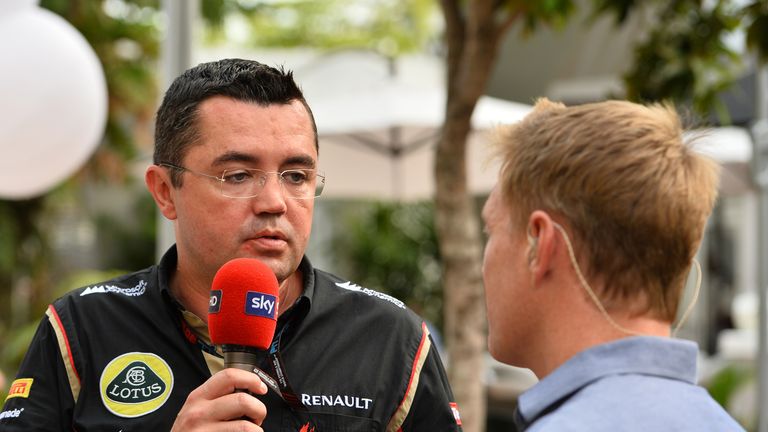 Despite battling for second place in the Constructors' Championship heading into the final three rounds of this year, Lotus's off-track predicament is more uncertain as they continue bidding to tie up an investment deal with the Quantum consortium.
That challenge has been compounded by relations with their departing lead driver Kimi Raikkonen, with the Finn, after failing to appear for Thursday's media day at the Abu Dhabi GP, confirming on Friday he had contemplated not racing this weekend owing to unpaid wages and would consider sitting out the final two grands prix if "an understanding" between him and the team was not respected.
With Lotus also having to deal with fallout from the sweary radio message delivered to Raikkonen as he battled with team-mate Romain Grosjean last Sunday in India, the usually unflappable Boullier at times cut an exasperated figure when he spoke to the media on Friday night.
Asked how easy the difficult situation at the team was to manage, the Frenchman replied: "Ideal it's not, obviously.
"It's not but we have an exceptional group of people in Enstone and obviously they produce a car which the last aero package based on the long wheelbase is delivering. So we just do our best to be delivering on track.
"There is obviously some issues which we know already since a long time and we are waiting as Gerard Lopez said [for the] new investor company to close the deal with. If not we have to think about other scenarios."
Although the in-form Romain Grosjean is all-but assured of retaining his place in the team for 2014, the decision over Raikkonen's replacement is thought to rest on whether or not the money from Quantum comes through.
While Boullier has put on record that Sauber's Nico Hulkenberg is his top target, speculation in Abu Dhabi has suggested Pastor Maldonado has signed a pre-contract with Lotus. Any arrival for the Venezuelan at Enstone would likely be accompanied by backing from the driver's long-time supporters PDVSA.
"I've been clear. We are talking to bring the team to the next step in terms of finances and resources," Boullier said.
"Quantum is the one today that is the priority because we need to close this deal and if we cannot we have to find another way to protect our employees and we nearly have it. But depending on the scenario it may change the driver line-up. So this is why we have to fix the scenarios."
Raikkonen's decision to return to Ferrari at season's end was made in September but the relationship between the Finn and Lotus appears to have been strained further by Alan Permane's message of "Kimi, get out of the f****** way" delivered to the Finn while he battled with Grosjean in the closing stages in India.
Although Boullier has publicly apologised for the strong language used, he played down the effect it has had on the team/driver relationship.
"There was obviously a lot of stress on the pitwall because from third and fourth one car has the tyres dropping off, the other car has an engine problem which could have blown up anytime, and we could have lost everything," he said.
"At the same time there was this overtaking manoeuvre and I don't actually blame everybody but at the end one of the cars was off track. So it's just created some stress and there was obviously one word in the phrase which if you are English it's easy to put this word normally, especially when you get stressed and emotional, but it created more emotion."