Lotus Technical Director Nick Chester anticipates a 'difficult' start to the season
Enstone team lacking in mileage after pre-season testing
By Mike Wise
Last Updated: 11/03/14 11:48am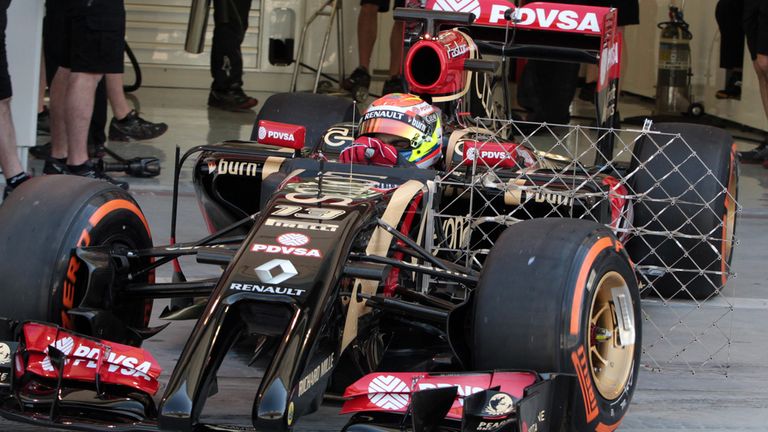 Like most teams using Renault power, pre-season testing turned into something of an ordeal for the Enstone outfit. Not only did Lotus struggle with the French manufacturer's power unit, which has proved far less reliable than rivals built by Mercedes and Ferrari, but they also missed the opening test at Jerez.
Launching the E22 in Bahrain instead, Lotus completed less mileage than any other team and didn't manage either race or qualifying simulations. In fact, neither Romain Grosjean nor Pastor Maldonado are yet to complete a practice start.
Although Lotus suffered exhaust problems in last week's final test, Chester said the bulk of the problems had been caused by the power unit, more specifically its energy recovery system.
"I think the first couple of races will be difficult," he admitted. "Hopefully when we get to race three, we'll be in a much better position. It depends really on the fixes Renault Sport are going to bring and how quickly that comes in."
Although the FIA homologation deadline has now passed - effectively freezing development - Chester said that Renault could still make reliability changes in line with the rules and predicted that they wouldn't be the only manufacturer to do so.
"Homologation means we can't upgrade the performance but we can bring in revisions for reliability," he said. "And that'll happen for all manufacturers during the year. Even manufacturers that have done more mileage than us are still going to be finding things they'll have to fix."
Lotus will effectively continue their test programme in Melbourne, although Chester thinks the lengthy periods that teams have spent working on cars in recent weeks means they could struggle to be fully prepared.
"I think all the teams are worried about it actually," he said. "Not just Renault Sport-powered teams but Ferrari and Mercedes-powered teams. If you have a certain problem around the power unit, like with the energy recovery system, you can end up needing three or four hours to fix it.
"So anybody could have a problem for P1 and not get out for P2. Or if you have a problem in the P3 session, getting out for qualifying could be quite tricky."
Outlining Lotus's to-do list for Melbourne, Chester said: "There is going to be a lot to learn. Obviously we wanted to get full race distances done and practice pit stops, fuel-saving and all the other things we'll need to use in a race.
"And we're just going to have to try and pack some of that into Friday and then get ourselves ready for Sunday. But we are starting a lot further back than we'd like to be."
Chester hopes Renault can deliver ahead of the season-opener but admits that Lotus's cars will still need a slice of good fortune to reach the chequered flag in Albert Park.
"I think we've got to have a few things aligned," he added. "We've had days when parts of the power unit have been fine and something else has let us down. I think we're going to need a bit of luck and all the bits to line up right for us.
"I know Renault Sport are working very hard on fixes and I'm sure they'll be bringing fixes and new specs to Melbourne. Hopefully, that'll give us a much better chance."