Troubled Lotus in 'strange situation' ahead of Australian GP, admits Romain Grosjean
Grosjean and Maldonado hope fixes work after "disaster winter"
By Mike Wise in Melbourne and James Galloway
Last Updated: 13/03/14 8:46am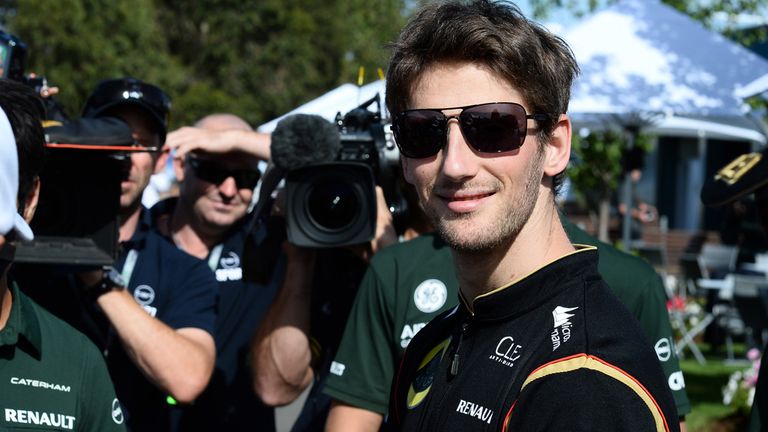 While the testing travails of fellow Renault-powered runners Red Bull have been more in the spotlight, Lotus - who arguably finished last year only second on pace to the World Champions - completed the least mileage of any team with their new car amid repeat issues with the French manufacturer's power unit.
The malaise ensured that the Enstone team were unable to complete a series of crucial items on their winter job list in preparation for Melbourne, a situation Grosjean concedes is far from ideal.
"It's not frustration it's just a little bit of a strange situation because you don't know what the car is," he told reporters on Thursday.
"You don't know a lot of things - race simulation, set-up, starts, safety car, qualifying mode, overtaking or defending. It just adds a little bit of pressure that you have to learn all that on a race weekend which is not ideal, but it is what it is right now. There's nothing we can do expect take things as they come day-by-day and tick the boxes as much as we can."
With a full race simulation proving beyond the E22 at the two Bahrain tests, Lotus's Technical Director Nick Chester has already conceded that they will "need a bit of luck" to complete the 58-lap distance at Albert Park.
Grosjean admits he is in the dark as to the car's Melbourne longevity too, although thinks the software problems that repeatedly tripped them up in Bahrain should have been improved.
"Honestly I have no idea," he said.
"We had problems on the on-lap in Bahrain, we could do ten laps another time. It wasn't things that were always the same issue, they were different, and I think a lot of them were coming from the software not putting the things right together. Software is something you can work on at the factory on the dyno so I trust they improve that."
Having finished last season with a flourish thanks to four podium finishes in the final six races, Grosjean will likely have to accept simply finishing Sunday's race as the limit of the team's ambitions this weekend. However, the Frenchman says he would rather take a retirement were the E22 to even show the merest glimpse of front-running promise.
"If we improve every time we are out and the performance is kind of there," he said when asked for a realistic weekend target. "I'd honestly rather prefer leading the race for 20 laps and then break everything rather than being four seconds off the pace and finish the race."
Video footage circulating on the internet after the Bahrain test had appeared to capture Grosjean expressing his frustration with Lotus's winter struggles, with the Frenchman seen smacking his hand against one of the benches in the team's garage.
However, the driver on Thursday denied he had actually been angry at all - "it was a joke with the mechanic and a camera took the picture and it went everywhere" - and said he and the team were focused on working through their problems to unlock what they believe is fundamentally a strong car.
"I jump out of the car and, yes, sometimes it has been a disaster. You go out with new tyres and everything breaks on the out lap and you have to come in and four times a day..." he recounted.
"But I don't think it's any interest to blame anyone or just be angry and run away. The idea is to work together and try to get the best of what we can.
"Yes, it's been a disaster winter for us. Renault has got their issues, we have got ours but on the other hand we have learnt a few things from the little running we did and all those things if we can get right for here that's already a step forward.
"Renault I'm sure has upgraded the software and things will get better as well. On paper the car is good so, yes, there are a lot of things we want to learn but I won't jump out of the car tomorrow and say 'that is it, that is bad, that is beep, beep, beep' or whatsoever. Sometimes you can be a bit emotional when it doesn't go as you want but so far it's winter testing and not even the first race."
New team-mate Pastor Maldonado, meanwhile, said that while it was clear that the Mercedes-powered runners were likely to lead the way in Australia, he was hopeful that Lotus would take their first steps towards closing the gap.
"We hope it will be good with no problems especially. We know that the car's potential is quite good," the Venezuelan said.
"To be honest Mercedes is better than all the other engines at the moment. I think from the aerodynamic point of view there is not much influence, especially now at the beginning of the year, in the final result.
"Maybe we have a really good car but at the moment we have been not able to put it all together. So we will see. It's going to be tough, a hard weekend for all of the teams - even Mercedes. But for sure they start with some gap but hopefully we can start to work better and better and catch them."