Romain Grosjean says mileage is the name of the game after another difficult day
Lotus driver ends Friday 19th fastest after completing just 12 laps while Pastor Maldonado forced to sit out Practice Two
By Mike Wise in Melbourne
Last Updated: 14/03/14 11:58am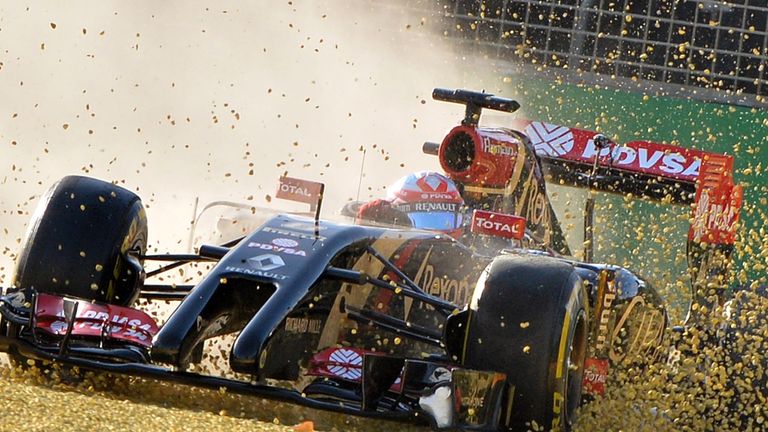 The question of whether teams struggling with poor reliability will take part in P3 has surfaced after the protracted periods they spent working on their cars during pre-season testing.
Qualifying follows two hours after third practice and with teams needing more time than that to change, for example, the new power units and gearboxes introduced this season, it has been suggested that some might deliberately choose to miss the latter session, fearing a breakdown might scupper their chances of starting Sunday's race from the grid.
Lotus appear the most likely candidates given that they have struggled more than anyone. It was much the same story on Friday, with Grosjean - 19th fastest in P2 - and team-mate Pastor Maldonado, who didn't take part in Practice Two, completing just 14 laps between them.
Twelve of them were managed by the Frenchman. But on a day that, in general, saw much higher levels of reliability than many had expected, it's little wonder that the Frenchman now wants to gain as much mileage as he can.
"It's at 2pm and I don't sleep until 2pm now I'm a dad," quipped Grosjean, referring to the time P3 starts on Saturday. "I want to do the third practice session; I think we need some mileage. I need to speak with the team but I don't think there is any big downside of trying to, even if we have a problem and miss qualifying.
"At the moment, we are 19th. So 19th or 22nd, I'd rather have a good car for a good race than being nowhere and not understanding things and being a pain for an hour and a half."
Grosjean didn't take part in the opening practice session at all. "I believe we had oil leaks in the gearbox system overnight and to not break the curfew we had to fire up late," he explained.
"Then we had another issue with the software inside and by the time we put the new software on and fired up and so on it was just too late to go to P1.
"In P2 we had a programme, but we had some small issues with the turbo. Then we could run eventually but I think we could just discover things and not really do the work we wanted to do."
The latest in Lotus's litany of woes was the broken rear suspension that ended Grosjean's session at Turn 6. Yet even before then, the E22 had appeared a handful.
"It was hard to drive," he said. "As I said, I think we have to learn a lot of things. It's not where we'd like to be so we'll try to test a few things for tomorrow."
Grosjean also admitted that his first-ever practice start in the car had been "a disaster". But on a day that ended with Sebastian Vettel fourth fastest overall, he did at least confirm that updates to Renault's power unit are "working very well".
"The driveability is much better than what it was," Grosjean added. "There are still a few weird things happening sometimes but in general Renault are doing a good job."
But can he actually complete a race distance? "We have never done more than ten laps in a row, I believe," was the response. "There are a lot of unknowns and we cannot be confident. But we can certainly hope for that."