Lotus say they're "in much better shape" after the post-Spanish GP test
Maldonado hails "big step forward" in Barcelona
By Mike Wise
Last Updated: 15/05/14 4:10pm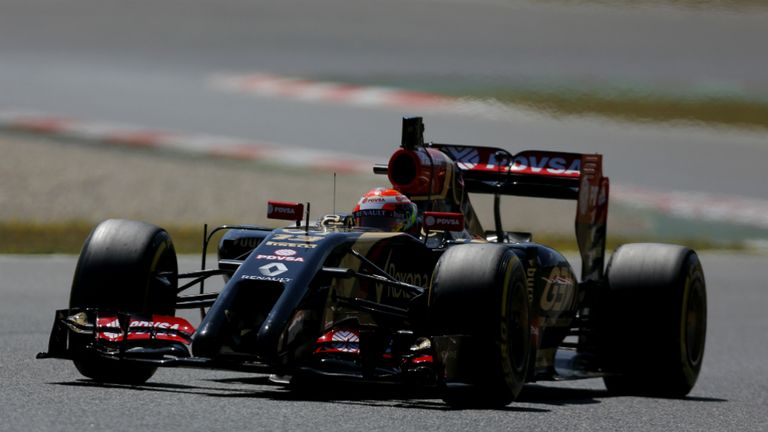 Team-mate Romain Grosjean underlined the Enstone team's recent progress by scoring their first points of the season in last weekend's Spanish GP and they also ended the post-race test at the top of the timesheet with Maldonado behind the wheel.
Far more importantly for Lotus, though, were the 102 laps the Venezuelan managed to complete on Wednesday. He described the outing as "my first normal day of testing" - the team's E22 having completed less running than any of its rivals pre-season and also blighted by problems during the post-Bahrain GP test.
"We ran to plan and completed everything we wanted to do," Maldonado said. "We learnt a lot more about the car, the set-up and performance is improving all the time so I'm feeling more comfortable to push too.
"It's been a big step forward today which hopefully means we'll be much better for the rest of the season."
Lotus have been playing catch-up ever since they missed the first pre-season test at Jerez, with poor reliability hindering their attempts to understand how they might find performance in their new hybrid car.
Last month's Chinese GP showed signs they had turned a corner, however, and with Grosjean also qualifying fifth on the grid at the Circuit de Catalunya, it could be argued that Lotus are currently making more progress than anyone.
The team's Trackside Operations Director, Alan Permane, is certainly happy with how things are going, adding: "We completed everything we set out to do today including aero assessments, mapping work, energy recovery scenarios, evaluations of set-up and ride height, tyre usage programmes and so on and I'm pleased to say the E22 didn't miss a beat.
"We completed over 100 laps today so it's been very good to see what is possible when we have good reliability.
"With the data we have collected over the last two days and the progress we've made, we're in much better shape heading to the next races. There is plenty of potential in the E22."