Alonso calm as Ferrari slip
Fernando Alonso has denied he is concerned by Ferrari's lacklustre performance in testing, which continued on Wednesday.
By Mike Wise in Barcelona
Last Updated: 23/02/12 9:15am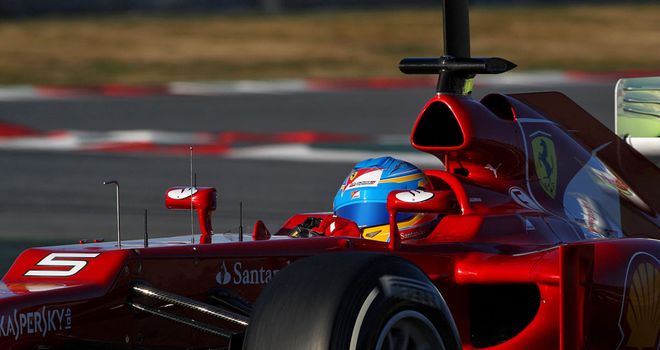 Fernando Alonso has denied he is concerned by Ferrari's lacklustre performance in testing, which continued at the Circuit de Catalunya on Wednesday.
While defending World Champion Sebastian Vettel completed a race simulation in the afternoon, Alonso spent shorter periods on track in an F2012 that continues to carry data gathering equipment as the Scuderia seek to understand it.
Furthermore, Alonso's best time of the day, one minute 23.180 seconds, was set on Pirelli's supersoft tyre while Vettel's best of 1:22.891s - which placed him above the Spaniard on the timesheets in third - was set on soft rubber.
Alonso admitted that Ferrari are currently lagging behind their rivals but stressed that the Italian marque should continue concentrating on learning as much about their new car as possible.
"It's true that we're getting information out of the car, information that we should already have in our pocket, but the car seems quite complex to understand and we need to keep understanding its behaviour," he said.
"I remember last year at the first test, we did a race distance on the final day - but we were one and a half seconds behind Red Bull in Australia. So race distances are these always welcome but I prefer to have a performing car."
More grip
Alonso also shrugged off the suggestion that he was struggling for grip when compared to rivals such as Vettel and Lewis Hamilton, who have both said that grip levels are lower at the rear with the ban on blown diffusers.
"Driver point of view, you always feel loose - you always want more and more grip. I don't know the others but when you drive the car, you think that the others are having the same problem," he said.
"If you are saying that they don't have the same problems then that would be a problem. But I think it's difficult in the test to understand what the others are doing, and watching from the outside it's always difficult.
"Sometimes we put on very old tyres to do constant speeds and things like that, and in the corners we are extremely slow. At the same time, another car is running with new tyres and a short run of fuel and they fly in the corners."
However, with Ferrari going all out with a design that is seen as a departure in comparison to Red Bull, the Spaniard admitted he remains unsure as to whether the gamble will pay off.
Different philosophies
"At the moment, we don't know exactly where we are. I think that maybe we're not the fastest but definitely we're not the slowest so we need to wait and see, especially at the final test," added Alonso, who completed 87 laps on his final day in the car.
"Red Bull seems competitive, which is not a surprise - they have a continuity in the last two or three years of the car, so it is difficult to get it wrong completely.
"McLaren, Ferrari - they need to invent something. They need to be more creative to catch up Red Bull and that's what both teams did. They chose different solutions, different philosophies maybe.
"So you will see the results in Melbourne and, more importantly, in November."