Alonso: I was attacking
Fernando Alonso denied he was struggling with the handling of his Ferrari during opening practice for the Australian Grand Prix on Friday.
By Mike Wise in Melbourne
Last Updated: 16/03/12 9:55am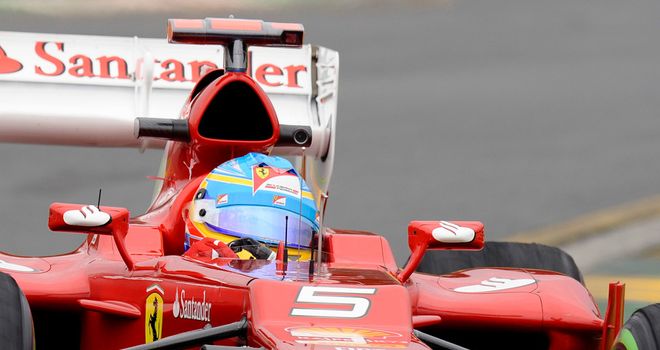 Fernando Alonso denied he was struggling with the handling of his Ferrari during opening practice for the Australian Grand Prix on Friday.
The double World Champion was seen to be fighting his F2012, particularly during the first session but said the damp conditions that hampered the day's running at Albert Park were to blame - the Spaniard enduring one particularly lurid moment after changing to slick tyres.
"I was attacking for sure. I was not sleeping but the conditions were difficult," explained Alonso, who ended both sessions fourth fastest. "It was damp in some of the corners and also we came from intermediate tyres so the straights didn't feel like straights and also there are corners with white lines - the car is moving there in damp conditions.
"It was dry tyres but not a completely dry circuit, so there was some movement in the car but it was okay."
That was not the case for Felipe Massa in P1, the Brazilian beaching his own car in the gravel as his team-mate fought to retain control.
Alonso quipped that he had found the changeable conditions all the more difficult having not driven the car in the two weeks since the final pre-season test in Barcelona.
"Also you are coming off 500 laps on the simulator: you come here, you do the first lap in the dry and in reality there are much more problems than in the simulator - there you are sitting at home," he added.
Normal
He also said that Ferrari had managed to complete the bulk of their Friday programme in spite of the conditions, but added that they had rendered the timesheets essentially meaningless.
"It was a normal Friday for us. We had some parts on the car in P1 that we wanted to have confirmation on coming from Barcelona - they are new coming for this race," he explained.
"Everything went okay, positive results but there was very little time available in FP1 and FP2 on dry tyres but even with that we managed to complete the programme.
"We only missed the tyre comparison between medium and soft, which we will do tomorrow I guess. Overall a good Friday but in terms of how competitive we are, or the feeling we have with the car, it didn't change too much.
"The feeling was quite okay, we had good answers and a good feeling driving the car - but I also had a good feeling in Jerez and Barcelona. We don't know how much the others have but it was okay.
"I think that especially in FP2 with the conditions we had it was impossible to see the level of competitiveness.
"I think with the Red Bulls 10th or 11th, or with Hamilton 16th and Kovalainen seventh there is a little bit of mix but I'm happy."
Not a favourite
However, Alonso also said he thought the nature of the Albert Park track might not suit Ferrari this weekend.
"It will be interesting to see how competitive we can be here in Australia and next week in Malaysia," he added. "I think they are quite opposite: I think one is a stop and go circuit, so braking and acceleration in Australia, and in Malaysia it's about corners and keeping average speed high.
"I guess with the feeling with the car, with the first impressions, it should not be our favourite track, this Melbourne. I expect more to come."