Massa: Worse than expected
Felipe Massa admitted that Ferrari are enduring a more difficult weekend than expected after their disastrous showing in Australian GP qualifying.
By Mike Wise in Melbourne
Last Updated: 17/03/12 10:52am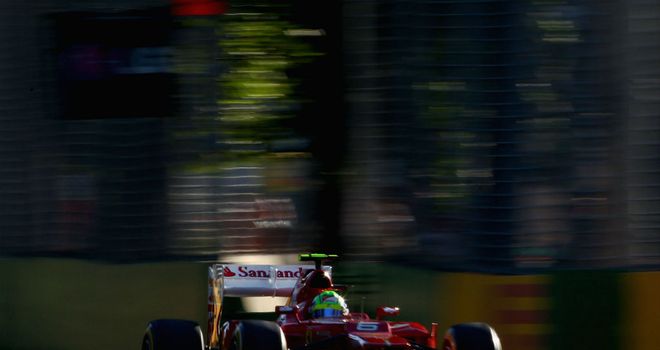 Felipe Massa was quick to admit that Ferrari are enduring a more difficult weekend than expected after their disastrous showing in qualifying for the Australian Grand Prix.
The Brazilian will line up on the Albert Park grid down in 16th place, four places behind team-mate Fernando Alonso whose own session ended with his car beached in the gravel at Turn 1.
Both qualifying and Saturday's earlier third free practice session underlined the problems that the Scuderia are currently facing with their F2012 chassis.
For Massa, the fundamental problem was one of grip - or lack of it. Both he and Alonso have notably been seen to be fighting with their cars so far this weekend.
"Yes for sure, the weekend is a little bit more difficult than what we expected," Massa said. "We expected to be more competitive than what we are. I'm sure the track doesn't help on our car, but anyway I expected to be better than where we are.
Fighting
"I was fighting all the time with the balance - to have the balance, to have the grip. I was struggling massively without the grip in the car.
"That was really the main issue I had today. For sure, whenever I think I find the balance, I improve a lot of time because fighting every corner, it's easy to pass a little bit the limit. Because you lose the rear, the traction is difficult.
"For sure the track is not helping that. Anyway, it was a little bit more difficult than what I expect and what we expect.
"Now we need to concentrate for tomorrow, to make it better, to make a better job in the race than we made in the qualifying and then concentrate as well to improve the car in the quickest way we can.
"I'm disappointed, because we're fighting to find the balance of the car all the time. It's very difficult and disappointing because of that. If I had the normal car with the grip there, it would have been no problem.
Ferrari have fallen into an unwelcome habit of making a slow start during recent seasons, something Massa seemed all too aware of when he described what they now need to do.
Direction
"We need to work very hard and find the direction very hard. I hope we're quick enough," he said.
However with Ferrari having shown a lack of performance over a single lap in Melbourne that was not apparent during pre-season testing, Massa admitted that the tyre degradation problems that have already been apparent do not bode well for the race.
"In Barcelona and Jerez, I never had a problem with lap time straight away on the first lap on whatever tyres, even the hard," he added.
"Here it was not possible. So we need to find why that is first...and we'll wait and see what is going to be the pace in the race. I hope it's better than what we had in the qualifying."