Rain To Pour More Drama On 2012...
Sky Sports F1's David Croft looks ahead to what is likely to be another wet but dramatic weekend in China...
By David Croft
Last Updated: 27/04/12 11:24am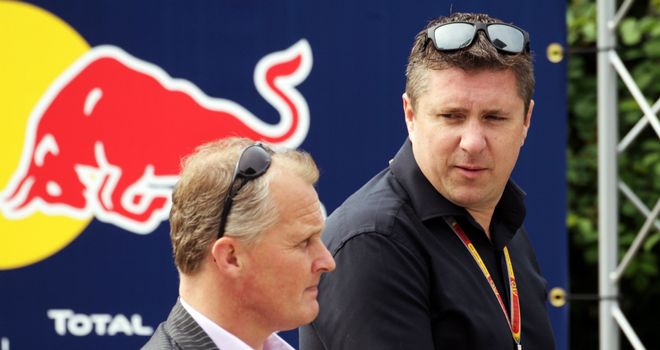 So not a minute too soon, it's back to business this week for the Chinese GP and whilst over the next few days the debate on the rights and wrongs of racing Bahrain are bound to make the headlines, at least we have some action to focus on as well.
The teams have had time to take stock of the first two races and study where they need to make improvements. So expect a raft of upgrades throughout the grid. Ferrari alone say they have five updates for China with a bigger upgrade package to come in Spain after the Mugello test.
Their Technical Chief Pat Fry says that the team are still about a second off the pace in normal dry conditions which I wouldn't disagree with. So on Tuesday night in Shanghai, I'm sure that Pat would have been jumping for joy in the puddles as the heavens opened and the rain poured down. With rain forecast for later in the week and showers possible on Saturday and Sunday that second-a-lap disadvantage might just get washed away.
The race in Malaysia showed that damp low grip conditions are ideal for Ferrari and Fernando Alonso, and given that we've had four rain-affected races out of eight Grands Prix in the past here, there's a decent chance that the Italian team might have conditions to suit once more.
Which ramps up the pressure a touch on McLaren, who will be very keen to press home their Saturday advantage on the Sunday. A solitary third place in Malaysia was hardly the reward they were looking for from a second successive front row lock out. By the way, pole in China for either Lewis or Jenson will be the team's 150th in the Formula 1 World Championship - a nice milestone, but no good if you can't convert that into a win.
Same for Mercedes whose DRS system has been attracting lots of attention and maybe some copycat solutions. They have the qualifying pace but come race day their competitive edge has been somewhat blunted - firstly by tyres that overheated and then in cooler conditions by tyres that didn't get up to temperature. Somewhere in the middle lies a decent result for either Michael Schumacher or Nico Rosberg and if that comes at the weekend you can expect that decent result to be followed by a swift protest from those who still think that their system is against the regulations.
I've heard the argument from both sides and it's an argument that is equally persuasive from both angles. The one thing that is certain is that we've been spared a protest by the fact that Mercedes have only picked up one point so far. But is this the weekend when they strike gold? It would be a welcome relief for Nico if he were to win in China given that he's led here at some stage in the last two Grands Prix and not converted either into a race victory. To be fair he was unlucky last year when he could well have won had he not had to back off to save fuel, a cruel blow after some well-timed pit stops had got him out in front.
And what about Red Bull? They're chasing a fourth consecutive Chinese Grand Prix pole position but so far this season they have not displayed the qualifying pace to make that a reality. I'll be fascinated to see what they have come up with this weekend to try and bridge the qualifying gap and also to aid their race pace. I'm certainly expecting some squeals of delight from Ted Kravitz during our coverage of the Practice Sessions on Sky Sports F1 HD, as he spots a new front wing or different exhaust placement.
Meanwhile, Lotus, who now that they've terminated their title sponsorship deal with the car manufacturer should take a leaf out of Prince's book and call themselves 'Symbol' for the rest of the season, have shown that they too have a car that can compete at the sharp end. All they need is Kimi Raikkonen to have a trouble-free qualifying - one helmet change and one gearbox change have left him too far down the grid to get a podium so far - and I'll think we'll see them in the top three before too long.
Sauber, too, in the right conditions have a car and driver that can pull off an upset. That second place for Sergio Perez last time out was priceless in what is an exceptionally close midfield battle this season. Force India, the only team to get two cars into the points in Malaysia, could well push them close this weekend, Williams look a completely different team this year to the one that had such a wretched season in 2011 and don't forget that in the past Torro Rosso have gone very well in Shanghai so could be strong this weekend as well.
I hope that whets your appetite a little for what I'm sure will be a weekend on the track worth savouring. A weekend that you can follow from start to finish and all points in between on Sky Sports F1 HD, a weekend potentially full of Shanghai surprises.
DC