Domenicali: Still off the pace
Ferrari Team Principal Stefano Domenicali admits the Italian team are still off the pace as they prepare for the Chinese Grand Prix.
By William Esler
Last Updated: 12/04/12 11:25am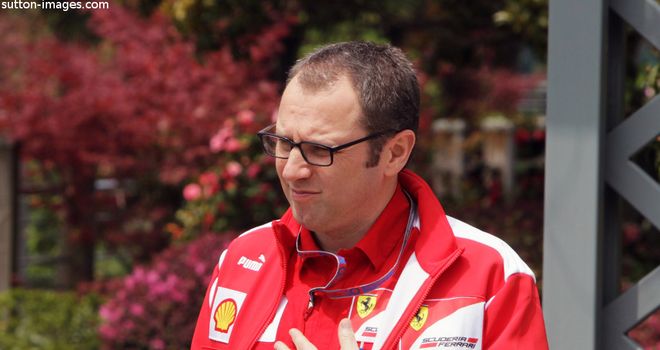 Ferrari Team Principal Stefano Domenicali admits the Italian team are still off the pace as they prepare for this weekend's Chinese Grand Prix.
Fernando Alonso won last time out in a rain affected Malaysian Grand Prix and heads to China leading the Drivers' Championship.
Domenicali says that whilst the win gave everyone a boost, they are under no illusions that they need to improve.
"I would say on that Sunday in Malaysia we did a great race," he told Sky Sports.
"We did the perfect race with the strategy, with the team, it was all very, very good so that was a special Sunday for us.
"But that doesn't change our approach because we know we are behind in terms of performance. I am not happy at all with the performance we have now.
"But it is better to be leading the Championship with a bad car, rather than to be behind with a bad car, so at least it is a positive thing for the guys at home. But nothing has changed, our feet are on the ground."
Domenicali, 46, did take comfort however from the F2012's race pace, even if Saturdays have been a disappointment.
"I think that what we have to do is maximise what we can do on the track," he added.
"We will see what we can do on Saturday, we have seen in the first two races that race pace was not too bad so let's wait and see."
Exhaust development has been a key area in 2012, with teams trying to recover as much downforce as possible after the blown diffuser was banned this season. However, Ferrari have had to re-evaluate their design and will not be running their preferred specification again this weekend.
Domenicali said: "At the moment the exhaust we have is the one we had in Malaysia. So we will just have to work with it and see if at the next race we are able to swap back to the other one."
Massa
Felipe Massa has been coming under intense pressure this season, with speculation mounting that he is set to be replaced at Ferrari.
But Domenicali thinks it is important that the team get behind the Brazilian to help him rediscover the form that nearly won him the 2008 drivers' title.
"I think that what is important at this moment is to stick close to Felipe," he said.
"As any driver knows you have difficult times and there is pressure from the outside and I said to him not to watch any kind of media report otherwise you kill yourself, unless you are strong enough to know that these kind of comments are irrelevant.
"He has to feel that the team is close to him, we will try to give him all that he needs, but what I really hope is that he will have a smooth weekend to show to everyone what is the true value of Felipe.
"It is a mental fight and he has to prove to himself first, but we all really believe in him."