Alonso: Melbourne not Malaysia
Ferrari's Fernando Alonso does not expect a repeat of his Malaysian Grand Prix victory in Shanghai this weekend.
By Mike Wise in Shanghai
Last Updated: 14/04/12 3:23pm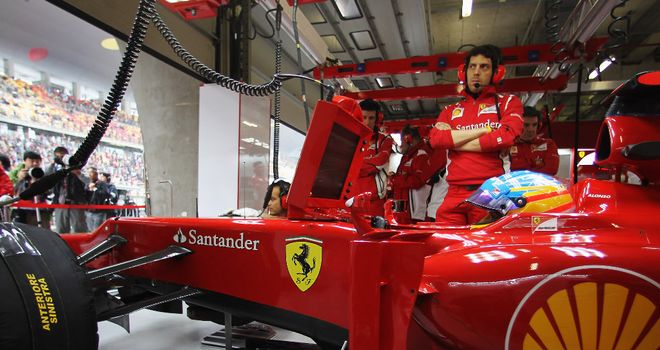 Fernando Alonso has predicted his Chinese Grand Prix will be more Melbourne than Malaysia as Ferrari's flat start to the season continued on Saturday.
The double World Champion, who leads in the Drivers' Championship after his surprise victory at Sepang, qualified ninth at the Shanghai International Circuit.
Alonso once again wrung all he could from Ferrari's troublesome F2012 but on a day of surprises, the Spaniard's place in the pecking order was pretty much as expected.
Despite lining up behind both Sauber drivers, Alonso said he believed the Swiss team were "definitely" better than Ferrari this weekend.
Furthermore, he reckoned he might also struggle to defend his position against the likes of Lotus's Romain Grosjean and World Champion Sebastian Vettel, who qualified 10th and 11th respectively.
"Definitely a Melbourne race," said Alonso, who finished fifth in Australia last month. "I hope a Malaysia but I don't think we can have the wet conditions or the pace we had with inters. The (qualifying) position was similar to Malaysia; in Australia it was P12 and it's more or less where we are in qualifying.
"In the race normally we improve on Sunday - the race pace - but it's true also that behind us on this grid of today, there are people quicker than us like Grosjean and Vettel. So even if we will try to overtake people at the front, we know that people from behind will be quicker than us."
Title still a target
However, with Ferrari once again struggling to match their biggest rivals at the start of the season - and with Technical Director Pat Fry suggesting on Friday that their problems run deeper than simply an underperforming car - Alonso refused to rule out a sustained title bid.
"I think the World Championship is a target, a goal, for the Ferrari team. Every championship they participate because the history, the way the team is racing with a passion of winning always, gives you always the input to fight for the World Championship," he said.
"I guess I try to think that at the end of the day, to fight for the World Championship, only the top teams will be there because they have the facilities, they have the budget, they have the experience of fighting for a World Championship.
"So I guess Red Bull, McLaren, Mercedes and Ferrari will at the end be challenging for the World Championship. The other teams...the resources and the capacities that they have maybe are more limited compared to the top teams."