Ferrari shoot down Massa speculation
Ferrari have given an indignant response to reports on Wednesday that Felipe Massa faces the sack from the team.
Last Updated: 28/05/12 4:58pm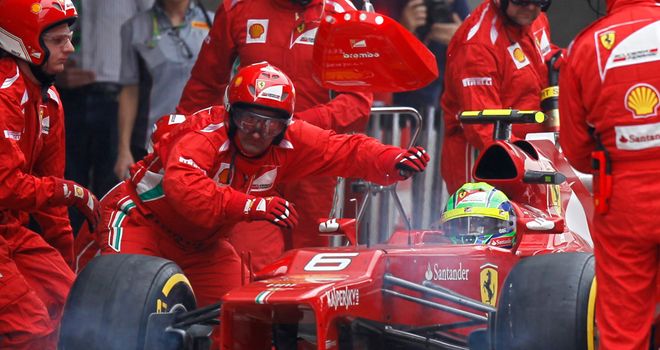 Ferrari have given an indignant response to reports on Wednesday morning that Felipe Massa faces the sack after 'wearing down the patience' of the team's hierarchy to breaking point.
Speculation surrounding the beleaguered Brazilian has reached a fever pitch following his ignominious weekend at Barcelona - where he qualified 16th and raced to 15th position while team-mate Fernando Alonso came within three seconds of victory - and Ferrari published a bleak post-race briefing note on their website which highlighted the extent of his slump in form and called for a 'change of gear starting right away'.
The Times reported that the missive amounted to a stark ultimatum that unless Massa produced 'a convincing performance at the showpiece Monaco Grand Prix next week', he faced the sack.
'The patience of executives at the team is wearing thin after another disappointing weekend and fierce critics in Italy believe that time is running out for the Brazilian. Ferrari have regularly repeated their commitment to a driver who lost out on the world title by the narrowest of margins four seasons ago, but Stefano Domenicali, the team principal, is nearing the end of his tether with each successive failure.'
However, the report has met with a withering response from Maranello, with the team tweeting:
'It was funny to read on the media this morning how the same concepts can be read in a different way from one day to the next one! What was published on our website on Monday evening just reflected what Domenicali said Sunday night about Felipe, nothing more than this! Anyway, someone has found a good opportunity to promote the umpteenth candidate to replace Felipe: this time it's Jerome D'Ambrosio....'
The probability of D'Ambrosio replacing Massa does indeed seem remote, but there are no shortage of prospective candidates being touted elsewhere if the Brazilian is jettisoned, including Mark Webber, Paul di Resta and Sergio Perez.
Nor is there little doubt that Massa, whose contract with the team expires at the end of the season, is under mounting pressure and in urgent need of a favourable result with which to silence his growing mass of critics.