Fernando Alonso is tipping Ferrari to turn their recent fortunes around and take the title fight all the way down to Brazil
Spaniard backing Ferrari to respond to Red Bull pace
Last Updated: 10/10/12 4:08pm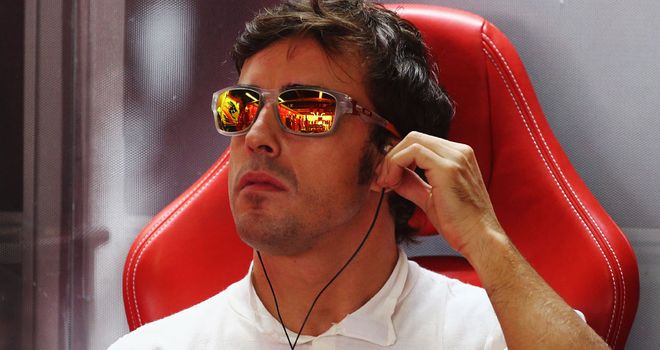 The Spanish star has seen his once commanding lead at the top of the Drivers' standings cut from forty to just four points in the four races since the August summer recess with McLaren and Red Bull winning two apiece.
In between first-corner exits at both Spa and, last weekend, at Suzuka, Alonso's registered a pair of third-place finishes with the 31-year-old not having led even a single lap of a race since his last victory in Germany six races ago.
However, despite the apparent turnaround in fortunes, Alonso is staying upbeat and insists that Ferrari can repeat their development surge shown in the opening months of the campaign.
"I am sure we can be in the fight right down to the wire," Alonso said in an interview with Ferrari's official website.
"The people who are working on the car are the same who have done the job so far and there's no reason to think they can't do a good job again now.
"Let's not forget that, if I am still leading the championship, it's because we have been capable of improving the car significantly compared to the start of the season and also because we are capable of always getting the most out of what we have to work with."
Insisting that there was "no point brooding" over his costly Suzuka retirement, Alonso nevertheless echoed Ferrari President Luca di Montezemolo in pointing out that had he been able to safely navigate the first corner in both Japan and Belgium then the situation in the championship "would be very different".
Nonetheless he concedes Ferrari have been outperformed recently, even if the situation is not as bad as has been portrayed.
"For sure, there are some teams who, in this final part of the season have made a significant step forward, while we have not matched that, especially in terms of how the car behaves on certain types of track," Alonso admitted.
"However, it is equally true that, at Monza for example, we had a car that was good enough to take pole, while then at Singapore, we got a bit lost and to a certain extent, we also suffered at Suzuka, even if there, Felipe showed he was pretty competitive in the race: if we weren't as quick as the Red Bulls, we were at least a match for all the others.
"Actually, these ups and downs seem to be the norm this season: in Japan, the McLaren seemed less strong than in the previous race while Red Bull stepped up significantly, as indeed did Sauber."
He also claimed that Ferrari weren't alone in bringing packages of upgrades to races that weren't always successful.
"A lot's been said about us, because everyone is always focused on the Red team: here for example, if we try a wing once, then don't use it, it becomes news, but these things happen regularly in all teams," he argued.
"Now, all we need to do is get back on the right track and I'm sure we can do it."