Fernando Alonso insists he isn't frustrated by Ferrari's lack of development compared with Red Bull after losing points lead
Deposed points leader says he's used to have to make maximum out of a situation
Last Updated: 15/10/12 3:10pm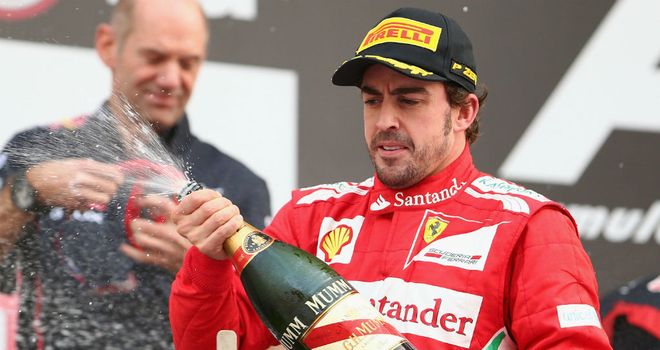 The Spaniard heads into the decisive phase of the title race on the back foot in the championship standings for the first time since June having been overtaken by Sebastian Vettel in wake of the German's third straight win on Sunday at the Korean GP.
While Red Bull's late-season surge has been aided by the introduction of a succession of new parts - with Sky Sports F1's Martin Brundle suggesting there are more to come for the team at the next race in India - Ferrari, amid ongoing correlation problems with their wind tunnel, in contrast have according to Alonso not brought "to the last six or seven races nothing new".
Asked in wake of his third place finish to the Red Bulls at Yeongam if the situation was frustrating him, the Spaniard replied: "Nothing new, nothing new. The last five years of my career has been like this. I'm good, I'm confident, used to this situation."
He added that it meant he and Ferrari were used to extracting everything possible out of the F2012 and that in any case he did expect some of the final four tracks to suit the car better than others.
"We are always on the limit, but we feel comfortable, let's say, like this," Alonso said.
"We seem to extract the maximum from the car when we are under pressure and as I said, four beautiful races to come with good possibilities for us to fight for the championship.
"But in the end, I'm sure there will be some circuits where we are a little bit more competitive, and some circuits where we are maybe not competitive enough, but overall, in the last four races, as we said, now we need to score seven points more than Sebastian, that will be extremely tough but we believe we can do it."
The two-time World Champion did concede though that the performance of the Ferrari relative to the Red Bull over the title run-in would be defined by the upgrades the team did manage to bring to the car.
"We will see. It will depend obviously on the updates in the car. I think we will see in India if there are any new parts. If there are, we will need to test them. For sure, the other teams will also bring new parts, maybe more than us, so we need to see which of them are working, which of them are not working and for who they work. I think the performance of the car will depend on that," Alonso added.
"Obviously Red Bull have made a step forward and they won three races. They were one and two in qualifying in Suzuka, one and two in qualifying here, one and two in the race here so it's something that is not in our hands."