Lewis Hamilton says Fernando Alonso's performances this season merit title
McLaren ace feels former team-mate should be a three-time winner
Last Updated: 16/10/12 3:53pm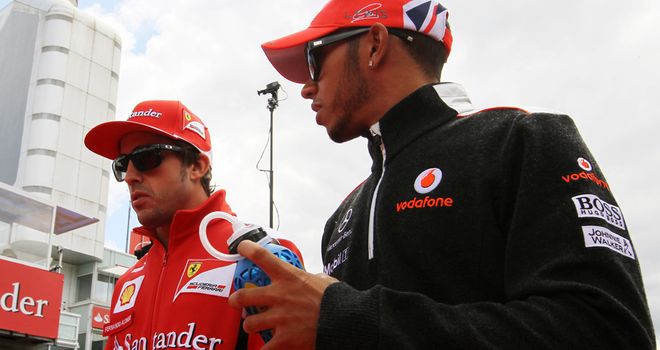 Having written off his own title hopes following his depressing tenth-place finish in Korea, the battle for the drivers' crown has effectively distilled into a straight duel between Alonso and fellow two-time champion Sebastian Vettel, who has taken over at the top of the standings.
And, in a further example of their newly-thawed relationship, Hamilton has said that he believes his former McLaren team-mate deserves to join the ranks of triple title winners.
"I feel like Fernando has deserved it throughout the year," the McLaren driver was quoted as saying by The Sun.
"His team haven't made one mistake. He hasn't always been the fastest but he has been up there.
"He has driven like the champion he is all year and I feel as though he is a three-time world champ."
Hamilton also praised the championship leaders, saying: "Red Bull have been more up and down but they have still done a great job. They have won the last three races."
The events of Korea mean the 27-year-old own wait for a second drivers' title is now all-but certain to continue into a fifth season, although his 2013 challenge will take place at Mercedes following his decision to leave McLaren at the end of the season.
His impending departure has led to suggestions that attitudes inside McLaren had changed towards him in recent weeks but Hamilton himself, echoing comments team-mate Jenson Button made on Monday, insists there is no disharmony at Woking.
"I've never been distracted once this year. I'm still 100 per cent in this team to the last minute," the Briton said.
"People will continue to say that there is a rift between me and Jenson but there honestly is no issue between us.
"I have been part of this team for so many years and have a great relationship. I think I am loved as much as I love the team.
"I hope it is possible to get a podium in the last four races but we weren't quick enough in Korea."