Stefano Domenicali says Ferrari qualifying improvement vital for title bid
Upgrades for Abu Dhabi designed to help single-lap form
Last Updated: 01/11/12 3:00pm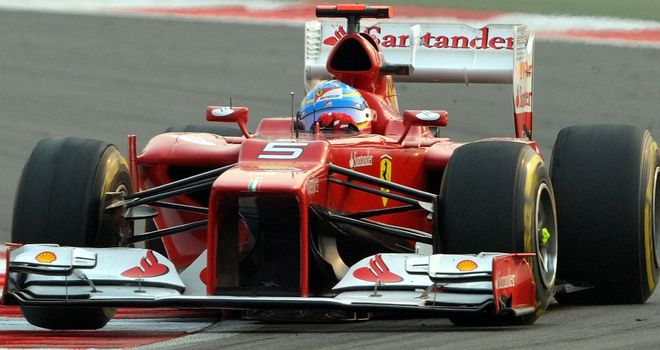 On current form Ferrari and Fernando Alonso face an uphill task to overturn Sebastian Vettel's now thirteen-point lead in the drivers' standings over the final three races.
But if they are to do so, an improvement in the F2012's single-lap pace is likely to be crucial.
Despite a string of impressive race performances this season, Fernando Alonso has only once in the last seven events started a race from inside the front two rows but Ferrari are hopeful upgrades to the car for this weekend will help change that statistic.
And in wake of a rallying call from their President Luca di Montezemolo, the Ferrari Team Principal says staying calm and improving qualifying form is what they need to focus on.
"I'm always optimistic so I can see that [the glass] as half full because considering the position we started in qualifying [in India], to achieve that result after a fantastic and superb race of Fernando is something important," he told Sky Sports News.
"Of course on the other hand the fact that Vettel has won the race is not really the thing that we wanted because the gap has increased but this is the situation.
"We have three races to go where we have to stay absolutely very rational and try to maximise mainly our qualifying performance."
Speaking to Sky Sports F1 following Alonso's stirring drive to second place in India last Sunday, Ferrari's Technical Director Pat Fry confirmed that further updates to the F2012 would continue to come on stream until the Brazil season finale and that improving qualifying was a central concern.
"We've just got to keep on developing it. We've got another few updates coming for Abu Dhabi and then some more for America. So it's not over yet and we're going to keep pushing them as hard as we can," Fry said.
"If we can improve our qualifying position...we make it too easy for Sebastian at the moment. He's away and cruising. We need to put him under pressure so hopefully we will be doing it in Abu Dhabi.
"It's going all the way down to Brazil."