Stefano Domenicali rules out Sebastian Vettel signing for Ferrari - but only for now
Scuderia boss gives his backing to rejuvenated Massa in 2013
By Pete Gill
Last Updated: 18/01/13 12:25pm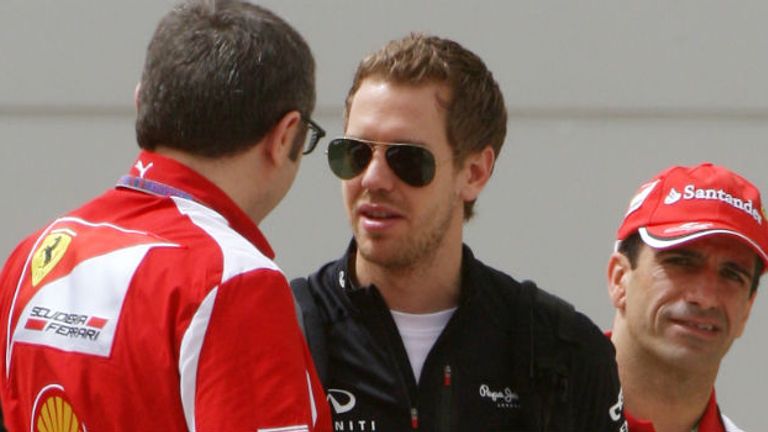 In a wide-ranging press conference at Ferrari's annual curtain-raising 'Wrooom!' event, Domenicali was inevitably interrogated about the security of Felipe Massa's position alongside Fernando Alonso in the wake of Ferrari president Luca di Montezemolo publicly acknowledging last month that he would prefer Vettel, rather than Lewis Hamilton, to be the long-term successor to Alonso.
After a deeply disappointing first half to the 2012 season, a return to form - and the podium - saw Massa handed a one-year extension in October, and Domenicali is convinced that the Brazilian will be a force to be reckoned with in the upcoming season.
"I think the toughest part of Felipe's career is now behind him," declared Domenicali. "After last summer, his approach turned about and as a result, his performance on track changed and he managed to show just how talented he is. I'm sure his problem was not linked to his contractual situation. I'm convinced that keeping Felipe in the Ferrari family was the right decision."
Nonetheless, with the limited duration of Massa's contract extension effectively placing him on probation - at least in the eyes of the public and the press - in the year ahead, the 'dream team' prospect of Vettel partnering Alonso in the future continues to tantalise.
"I think our President has already commented on this subject several times: a dream team is fantastic if it is correctly managed, but at the moment we are not looking at that, because we want to ensure the team is as well balanced as possible," dead-batted Domenicali. "You have to be very careful, not just in Formula 1, but in sport in general, because sometimes, putting together all the number ones can lead to more negatives than positives."
Whilst that statement would seemingly rule out Vettel moving to Italy whilst Alonso remains in residency at Maranello, Domenicali's reply, reported in full by the team's own website, contains a significant caveat: "for the time being".
Alonso will turn 32 in July and it seems inconceivable that, were Vettel to consider moving on from Red Bull, Ferrari would not, at the very least, be tempted to sign the German, regardless of the complications pairing two of the sport's superstars might cause.
One driver freshly arrived at Maranello is Pedro de la Rosa, with the former HRT pilot signed to bolster the Scuderia's development work, while Domenicali also confirmed that Ferrari remain hopeful that Jules Bianchi will be appointed by Force India to fill one of the two remaining vacancies on the 2013 grid.
As for Ferrari's own hopes for 2013, Domenicali's objective is simple: "Our aim is clear, to win and the priority is still that of giving our drivers a car that will be competitive right from the very start.
"The development of the 2013 car began in the Cologne wind tunnel and is on-going. I certainly expect to see greater efficiency than last year because we will no longer need to carry out comparisons of data and correlation with the Maranello wind tunnel, which is currently being rebuilt and is due to be operational again after the summer break."
Their new car will be launched on February 1st before debuting the following week in the first test of the winter at Jerez.