Felipe Massa fastest on Day Three but seemed more downbeat than earlier in the week
Brazilian laments lack of opportunity to set up F138
By Mike Wise in Jerez
Last Updated: 07/02/13 7:48pm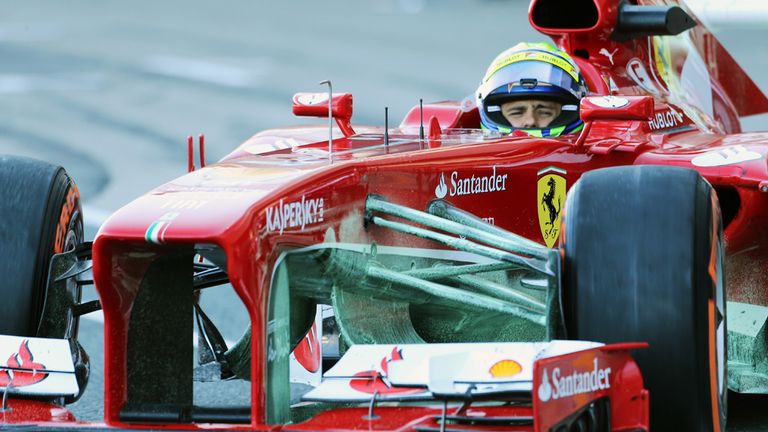 On the face of it, Massa had plenty to be happy about. He set the fastest time of the week so far with a lap of 1:17.879 seconds, one that was nearly nine tenths faster than second-placed Mercedes driver Nico Rosberg.
Sat in front of a large timing screen in Ferrari's paddock hospitality area, the Brazilian did indeed express satisfaction with the result. However, Massa placed far greater emphasis on the work he needs to cram into the three days of testing he has open to him before Melbourne.
"It's always nice to arrive at the end of the day and see your name in first position but, honest, it doesn't count for anything," Massa said. "For sure, if I'm the last then you're always a little more frustrated, with the pressure around a big team."
That was about as upbeat as the 31-year-old got. He had described the F138 as being "on a completely different planet" to its troublesome predecessor two days ago. Now, though, Massa said the 227 laps he has racked up this week had not been enough and that he wished he'd been able to do more set-up work than the systems and correlation checks that have formed the lion's share of his week's labour.
Not that Massa has suddenly revised his opinion of the Scuderia's new car. "This morning we were going to work on the set-up but I didn't have time to do that. But I can't say that the car was really, really difficult to drive; it was, more or less, in a good direction," he said.
"I think when you put everything together - the improvements I did day by day - I think it was an important three days. And I think it was a very important three days for the car and to work in the right direction."
So why the more guarded assessment? Perhaps on Tuesday - when Massa also described Jenson Button's fastest lap as "incredible" - his enthusiasm simply stemmed from being back in amongst it all.
There might also be a realisation that the sort of car every driver dreams of - the sort Button was blessed with at Brawn GP exactly four years ago - is out of reach for another year.
Then there's the Fernando Alonso factor. While Massa has been pounding round Jerez doing constant speed checks, his team-mate has been elsewhere, riding his bike and preparing for the rigours of the year ahead.
Alonso makes his debut behind the wheel of the F138 in a couple of weeks' time. If this year's car is progressing well, which Massa says it is, then he'll still have five full days of running in Barcelona - but without last year's headaches.
Not much time, certainly, but enough to set the car up to his liking. And much more than Massa has left available to him.
Summing up, he added: "It's just the first test. I'm sure there are lots of very good cars on the track. If we are to be in that position at the first race then we need to work. A lot."