Ferrari's Pat Fry has given upbeat assessment of situation at the end of testing
"It's certainly a lot different from this time last year," Technical Director says
By Mike Wise
Last Updated: 07/03/13 9:40am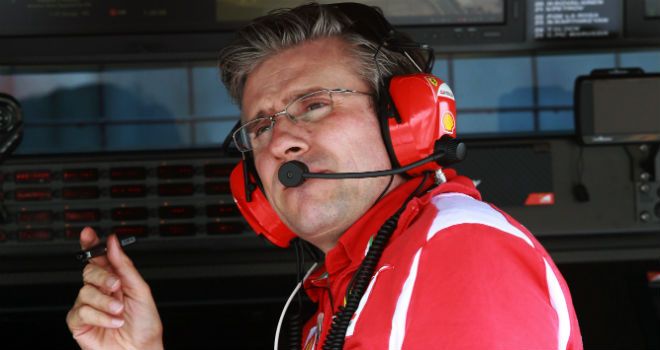 The Scuderia have made consistently slow starts during recent seasons - an unwelcome habit caused in the main by difficulties they've experienced with their wind tunnel at Maranello.
Ferrari's failure to match the aerodynamic results the wind tunnel - used in conjunction with Computational Fluid Dynamics (CFD) in the design and development process - has given with those seen on track has led to a slower rate of development than their rivals.
Action was taken last year, however, with the decision to use a wind tunnel owned by Toyota while Ferrari overhaul their own facility.
Speaking at the end of last week's final test in Barcelona, Fry said the situation with this year's F138 is far removed from that which Ferrari were faced with 12 months ago, when they were struggling to understand its F2012 predecessor.
"It's certainly a lot different from this time last year," he asserted. "The good thing is that we were pushing late towards the end of the year for last year's Championship and we started our aero programme quite late. We delayed a lot of the updates for halfway through this test and the whole factory has been working very well.
"I think we've had some reasonably good results here. What's worked in CFD and the wind tunnel is starting to deliver on the track, so it's a good sign for Melbourne and our development path throughout the year.
"Last year, I think we made a few fundamental mistakes which in reality we've learnt from. This test for us has been good, what we've developed in CFD and the wind tunnel is delivering on the track.
"You never have 100 per cent correlation but it's pretty good. Again, that should give us more confidence that the developments we bring at the races will hopefully deliver as they have done today."
Fry said that more parts would appear on the car at each of the first three races, with a major upgrade planned for next month's Chinese Grand Prix.
"There are some more bits coming through, so there'll be a few more things in Melbourne. I think it will be particularly challenging testing things, particularly on a track that's not used that often, so we'll have to see," he said.
"But there are more bits coming through for Melbourne, more for Malaysia and then a bigger upgrade for China."
With teams in general struggling to understand Pirelli's new range of tyres owing to the cold weather they experienced in testing, Fry also said the lack of representative running conditions could cause surprises Down Under.
"I think the race pace is going to be down to how we use the tyres. I think there's still going to be a lot of people learning things in Melbourne to be honest," he said.
"I think there'll be a few surprised people and a few shocked people. We'll see, but it's the same for everyone."
Fry added: "There's so little that's known about the tyres. When your first lap is one and a half seconds faster than your second, I wouldn't like to weigh up race pace against qualifying pace.
"I think it's going to be fairly mixed up to be honest. I wouldn't like to predict where we're going to be. It'll be interesting to run at a very hot track; I'm not sure what it's predicted to be (in Melbourne) - whether it'll be 33 degrees like it was a few days ago."