Ferrari's Fernando Alonso was fastest ahead of Felipe Massa in final practice in China
Scuderia one-two ahead of qualifying with Merc also looking strong
By Mike Wise in Shanghai
Last Updated: 13/04/13 8:37am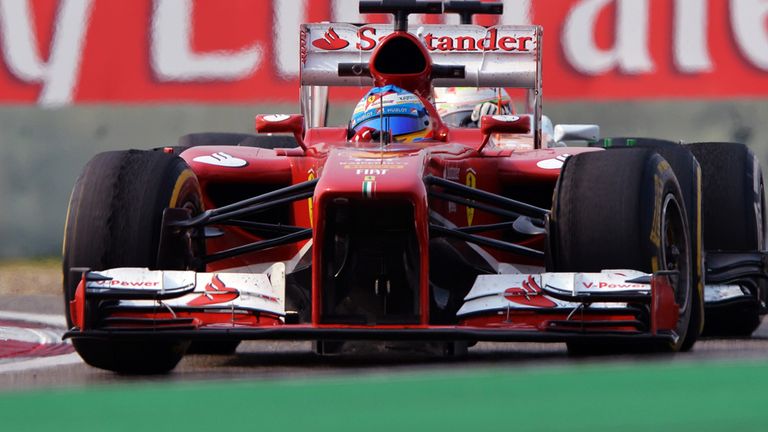 Alonso lapped the 5.451km Shanghai International Circuit in 1:35.391 seconds, a time 0.622s quicker than that managed by Massa, who was fastest overall in Friday's sessions.
Lewis Hamilton was third fastest for Mercedes, although team-mate Nico Rosberg was a frustrating 14th after his car developed a mechanical problem.
The German is therefore on the backfoot ahead of qualifying, a session which he dominated 12 months ago before claiming victory in the race.
Even so, Mercedes look very strong. Commentating for Sky Sports F1, Karun Chandhok said: "My reading of this is that we have a straight fight for pole between the Mercedes and the Ferraris with the Red Bulls a little bit shy."
Red Bull ended the session fourth and fifth, with Sebastian Vettel just over a tenth faster than Mark Webber but almost nine tenths slower than Alonso.
The question to be asked now is whether - if at all - the World Champions have been masking their true pace. Vettel qualified on pole position for both of the opening two races of the season but was only tenth fastest on Friday.
Adrian Sutil was a strong sixth for Force India, with the top ten completed by Kimi Raikkonen (Lotus), Jenson Button (McLaren), Sergio Perez (McLaren) and Nico Hulkenberg (Sauber).
Mercedes were immediately on the pace, with Rosberg setting a 1:37.699s lap on the medium tyre before Hamilton went six tenths quicker.
He improved slightly, as did Rosberg, with Vettel third at this stage over half a second back but ahead of Webber.
Installation laps aside, Ferrari's drivers waited until the second half of the session before heading out, with Alonso and Massa respectively fifth and sixth on the medium tyre.
Rosberg switched to the soft with 15 minutes to go but aborted his flying lap and returned slowly to the pits.
He then climbed out of his car, unable to undertake a qualifying practice run. Rosberg later reported to Sky Sports F1's Ted Kravitz that a hydraulics problem was to blame.
Soon after, Hamilton switched to the yellow-walled tyre and set a lap of 1:36.065s. Sutil briefly moved second but was subsequently bumped down by the Ferraris and Red Bulls.
Alonso was fastest in the second and final sectors but his advantage over Massa might be explained by traffic: the Brazilian appearing to be held up by Sutil's car towards the end of his lap. Both Ferraris were running the new front wing that is being debuted this weekend.
Raikkonen could have set a time on a par with the Red Bulls, but the Finn's first flying lap on the soft tyre brought a mistake in the second sector and he appeared to lose about four tenths.
Button lost track time with a front ride height change and later reported a lack of grip through Turn Seven while Paul di Resta was almost a second slower than team-mate Sutil in 16th place.
Max Chilton was 22nd, over a second behind team-mate Jules Bianchi, with Marussia experiencing a nasty moment when one of their mechanics was hit by the Briton's car.
Chilton was being reversed into his garage at the time. An ambulance was dispatched down the pitlane but thankfully only minor injuries were reported.