Fernando Alonso calls for 'immediate' Ferrari improvement after British qualy nightmare
Worst Saturday of 2013 leaves title contender looking for answers
By James Galloway and Mike Wise at Silverstone
Last Updated: 29/06/13 3:33pm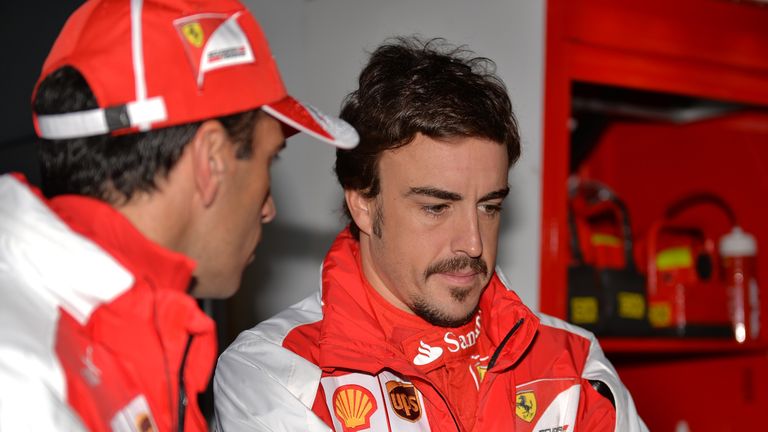 Although single-lap pace has been Ferrari's nemesis for several years, despite sustained attempts by Maranello to improve their Saturday form, qualifying day at Silverstone marked a surprising new low of 2013 as Alonso qualified only tenth and Felipe Massa missed out on Q3 altogether in 12th.
Alonso's result, his worst since last September's Italian GP when his F2012 broke, means he will start seven places behind title rival Sebastian Vettel on Sunday and with the likely prospect of his already large 36-point deficit to the German growing to the equivalent of two race victories or more.
Speaking to reporters after the depressing session, Alonso didn't attempt to hide the disappointing nature of Ferrari's form and conceded some of their recent upgrade parts had clearly not been working as intended.
However, given the gap to the pole-sitting Mercedes was a massive 1.3s, the Spaniard suspected that other factors were also at play.
"Obviously we are not happy and we are disappointed with today's performance," Alonso admitted.
"We are not delivering what we are supposed to deliver every weekend. All the new parts that are coming [to the car], maybe they are not as expected. Some of them are possibly not working so we are losing a little bit of pace compared to the top teams.
"But it's hard to imagine we lose so much compared to them. If we were two or three tenths slower than the fastest car two months ago, now it's difficult to believe we are now more than one second. So it's something more than that.
"We are not developing the car good enough, this is true, but also maybe here in this track we don't find the right set-up, the right moment to make the tyres working perfectly.
"What the problem is we need to investigate because we must improve."
Even before Saturday, Alonso hadn't started inside the first two rows of the grid since the Bahrain GP in late April and the Spaniard conceded that it was worrying that the team's qualifying performances were clearly tailing off.
"The dangerous moment is the way that we seem to perform worse and worse. I remember at the beginning of the year both Ferraris were on top, we were on the first two rows normally in the first three or four races. I remember even Malaysia Felipe even started on the first row of the grid," he recalled.
"Now here we start getting in the positions that are familiar unfortunately - that is fighting for Q3, as we were last year. Felipe this time is out of Q3, we are tenth, so we need to come back to the form we had at the beginning of the year immediately otherwise we'll lose too much ground."
However, three weeks on from turning sixth on the grid into second place at the chequered flag in Canada, Alonso pointed out that such Sunday salvage operations were an occupational hazard for him.
"In terms of recovery positions, it's nothing new - I've been doing this from 2008," he said.
"It's the fifth or sixth year that I start five or six positions behind the leader of the championship and I fight for the World Championship until the last race. I think this year will not be too different."